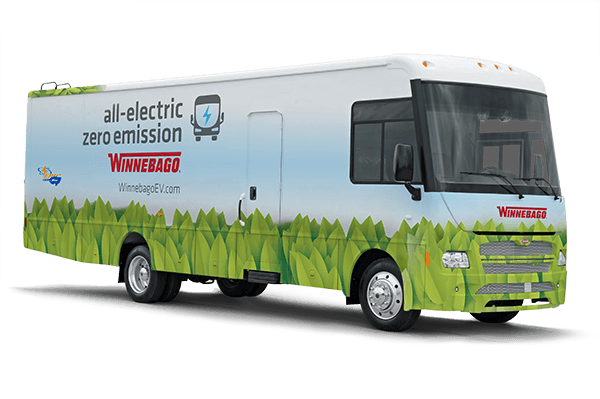 Motiv Power Systems is supporting the delivery of two new community-serving, zero-emission vehicles.
The Oakland Library MOVe in California is an all-electric pop-up bookmobile providing access to books, technology and other programming. It is based on Motiv's EPIC 4 Dearborn chassis. Currently in active service, the Oakland MOVe made its debut at Oakland's city hall on May 11 at a ribbon-cutting ceremony with Oakland Mayor Libby Schaff.
"Our library staff and our whole community is so excited that this bookmobile is delivering a whole new type of environmental stewardship in our community," says Schaff. "Not only is this an electric vehicle, but it is one that will carry books and information to get kids excited about why it is important that we use electric vehicles and why cities like Oakland should be changing over our fleets and putting in more charging stations so that everyone can drive EVs. This vehicle is part of how we will achieve our goal of how to be diesel-free by 2033."
Meanwhile, a demonstration eBloodmobile, built in partnership with Winnebago Industries' SuperStructure Interlocking Design platform, runs on Motiv's EPIC 6 Dearborn chassis. This summer, the eBloodmobile is touring California on a roadshow to illustrate its zero-emission features to the state's medical and public services community.
Typically, mobile medical units powered by internal combustion engines, like mobile blood banks, spend eight gallons a day idling to provide services in the community. Given an average use cycle, an all-electric version can save up to roughly 34,000 gallons of diesel over the expected 10-year life of the vehicle, along with the associated tailpipe emissions, says Motiv.
In terms of range, the demo eBloodmobile is designed to hold enough charge for eight hours of service plus round-trip travel to and from its home facility. This equates to approximately 75-125 miles of range. The eBloodmobile is capable of charging to half its full capacity in two hours and 75% of capacity in four hours.
Together, Motiv and Winnebago plan to release a variety of all-electric mobile medical and dental units, as well as bookmobiles.
"Diesel exhaust emissions while idling remains a pervasive problem for mobile outreach vehicles aimed at serving communities, especially for our most vulnerable populations like children and medical patients," says Jim Castelaz, founder and CEO Motiv Power Systems. "It's quite common for these vehicles to spend eight hours idling, in addition to running diesel generators, in order to provide the power needed to run electrical equipment and climate controls. An all-electric vehicle provides clean, silent and vibration-free energy to power on-board equipment."