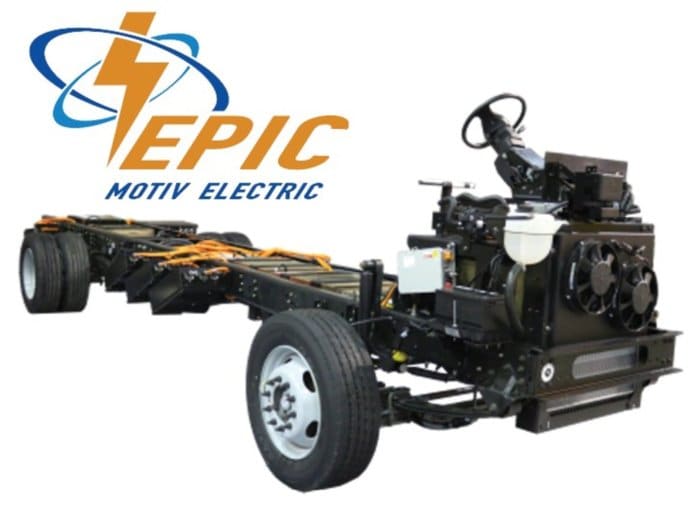 Responding to fleet market demand for complete, body-ready chassis, Motiv Power Systems has announced its EPIC (Electric Powered Intelligent Chassis) all-electric family of chassis for 2018.
Based on the Ford E-450, F-59 and F-53 platforms, the EPIC all-electric chassis are production-line-ready, drop-in replacements for the equivalent ICE chassis and are available for a wide range of medium-duty body applications: e.g., walk-in vans, box trucks, school buses, shuttle buses, work trucks and specialty vehicles.
As a zero-emissions offering, the EPIC family of all-electric chassis qualify for regional and national incentive and subsidy programs, including Volkswagen settlement funding, Motiv notes.
Having received Ford's qualified vehicle modifier approval (EQVM), the new EPIC chassis family provides a broad range of capabilities in range, power and capacity equivalent to common combustion alternatives – with the added benefits of near-silent operation and smooth power delivery, says Motiv.
Featuring Motiv's Smart Power Control Technology, each EPIC chassis is available with universal charging compatibility and secure remote telematics and diagnostics for charging flexibility and fleet/driver connectivity.
Kash Sethi, director of sales at Motiv, says, "With EPIC, fleets can select chassis optimized for their specific range, payload and route requirements. By providing an all-electric offering for fleet applications, Motiv now closely mirrors the long-established procurement process for internal combustion engine-powered chassis."
The new EPIC all-electric chassis will be on exhibit at Ford's booth, #3239, at The Work Truck Show in Indianapolis on March 7-9. Attendees can also test-drive an all-electric EPIC chassis-powered AmeriPride walk-in van with a Utilimaster body as part of a Ride & Drive event jointly hosted by Utlimaster and Motiv.