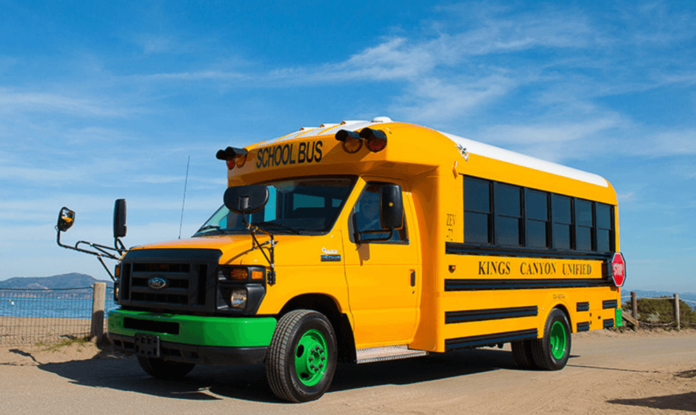 Motiv Power Systems, in partnership with Type A school bus manufacturer Trans Tech, says it is bringing zero-emission school buses to the Sacramento region as local school districts transition school bus fleets from diesel to all-electric.
According to Motiv Power Systems, Elk Grove Unified School District and Twin Rivers Unified School District will be receiving buses thanks to a $7.5 million grant from the California Air Resources Board to build 13 zero-emission school buses as part of the Sacramento Regional Zero-Emission School Bus Deployment Project.
Beyond freeing buses from the volatility of oil prices, these buses will protect growing children from unnecessary exposure to fossil fuel pollution and particulate matter while also supporting local manufacturing in the production of the powertrains.
The Sacramento Metropolitan Air Quality Management District will hold an event on its all-electric school bus initiative May 12 at 10 a.m. at Martin Luther King Jr. Technology Academy.
"The Sacramento Regional School Bus Deployment Project is a great example of how our climate policies are reducing greenhouse-gas emissions and creating jobs here in California," says Sen. Bob Wieckowski, the chair of the Senate Environmental Quality Committee, whose district includes the City of Hayward, where Motiv Power Systems manufactures its powertrains.
"Motiv Power Systems all-electric powertrain kits are increasing the number of students who are transported in zero-emission vehicles," he continues. "This is especially beneficial to disadvantaged communities where poor air quality has severe health impacts for many residents. This grant puts us on the road to a cleaner California."
John Clements, retired director of transportation at Kings Canyon Unified School District, says, "Health and safety standards are always important and even more so when transporting our future generations. So, seeing Motiv and its partners gain approval for both Federal Motor Vehicle Safety Standards and California Highway Patrol Certification was paramount in providing our district with the right all-electric buses to fit our requirements."
The new all-electric buses will be powered by Motiv's all-electric powertrains, which are both designed and manufactured in California. The buses, Trans Tech's all-electric eSeries built on the Ford E450 chassis, will be distributed by First Priority GreenFleet.
"We are thrilled that our partnership with Motiv Power Systems allows us to bring our all-electric eSeries to Sacramento County and the state of California," says Trans Tech President John Phraner. "The eSeries is a tremendous complement to our proven lineup of fuel-efficient conventional school buses. Combining our signature aerodynamic design with the Motiv Power Systems powertrain and Ford E450 chassis provides customers interested in an all-electric Type A school bus the best choice on the market."
According to Motiv Power Systems, its all-electric powertrain has been scaled from school buses in California and New York, to shuttle buses funded by Google and the California Energy Commission, delivery walk-in vans for AmeriPride, and an all-electric refuse truck deployed by the City of Chicago.