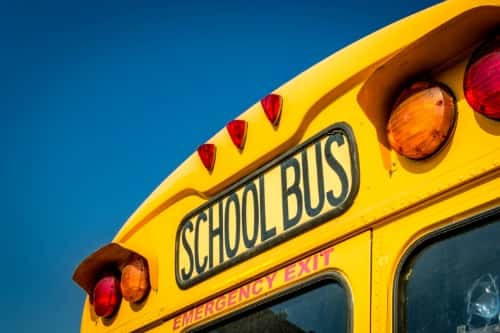 Southern California Gas Co. (SoCalGas) and Onboard Dynamics Inc. (ObDI) have announced the field demonstration of new mobile compressor technology that provides on-site backup and supplemental compression at natural gas fueling stations.
The new compressor, called the GoFlo CNG80, is being demonstrated for the Antelope Valley School Transportation Agency (AVSTA) in Lancaster, Calif., where 43 natural gas school buses refuel at a station at AVSTA's fleet yard. The GoFlo compressor uses natural gas instead of electricity to operate, which increases its cost-effectiveness and allows it to provide backup in the event of an existing CNG compressor failure, the partners explain. It is also an economical way to expand CNG refueling capabilities without relying on a connection to an external electric power source to operate.
SoCalGas and ObDI are partnering to fund the demonstration project to validate the performance of the new mobile compressor, which they expect will further improve on-site refueling for natural gas fleet customers.
"The new GoFlo mobile compressors increase reliability and resilience of natural gas fueling stations by helping mitigate the risk of electric power supply interruption," says Yuri Freedman, SoCalGas' senior director of business development. "This type of equipment will enhance the function of any fueling station and make refueling even easier for fleet operators who fuel with clean natural gas and renewable natural gas."
"The GoFlo compressor technology provides an affordable and reliable refueling solution for compressed natural gas fleet operators that provides additional value to all customers, including those with inadequate electric infrastructure or higher electricity rates," adds Rita Hansen, CEO of ObDI. "This technology promises to offer both the backup capability and capacity increases that many CNG fleet operators need today."
"Antelope Valley schools switched to natural gas buses 36 years ago to help clean our air," notes Mike Breivogel, fleet manager for AVSTA. "Installation of the GoFlo compressor partially offsets use of our aging electric compressor, provides mobile and easily deployable backup capability, increases capacity of our pumps, and reduces our operating costs."
The installation represents the second phase of a field demonstration of the new mobile compressor. In the first phase, field testing was conducted and completed at Mountain View School District (MVSD) in South El Monte, Calif. There, the GoFlo compressor enabled MVSD to improve on-site refueling of eight CNG school buses, reduce vehicle fuel costs and improve driver productivity. The demonstration at MVSD provided information that led to product improvements of the commercial unit that is now running at AVSTA.