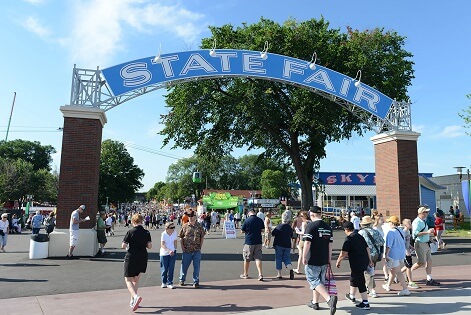 This year's Minnesota State Fair – from Aug. 24 to Sept. 4 – will feature the Eco Experience exhibit, which will showcase alt-fuel vehicles and related technologies, and highlight how these technologies reduce air pollution and greenhouse gas emissions.
As a part of the exhibit, local owners of electric vehicles will share their experiences with plug-in vehicles during a 2 p.m. panel discussion on Sunday, Aug. 27. Fairgoers can also see EVs, including the state's first all-electric school bus, during the daily 2 p.m. parade at the fairgrounds on Aug. 29 and Aug. 30. On Aug. 31 and Sept. 1, an E85-powered flex-fuel vehicle will be featured in the parade. And on the final day of the fair, Sept. 4, there will be a 10 a.m. Eco Experience presentation on Minnesota's first-in-the-nation move to a 20% biodiesel blend in 2018.
During all 12 days of the fair, the Eco Experience will feature "Kick Gas Safety Town," which includes miniature buildings, vehicles, signals, traffics signs and sidewalks. A "smart garage" includes the Chevy Bolt and the plug-in Chrysler Pacifica, with demonstrations from 9 a.m. to 9 p.m.
"Minnesota is recognized as a national leader in cleaner-burning biofuels, and electric vehicles are gaining popularity here," says Robert Moffitt, a spokesperson for the American Lung Association in Minnesota, which is coordinating the parade exhibits and the biodiesel presentation. "Recently, we launched a three-year effort called Midwest EVOLVE to promote electric vehicles and plug-in infrastructure in seven Midwestern states, including Minnesota."
The electric school bus will be charged by wind power and transport students at Lakeville Area Public Schools this year. The first of its kind in Minnesota, the bus is part of a collaborative effort between Great River Energy, Dakota Electric Association, and Schmitty & Sons, which provides bus service to Lakeville Area Schools.
Notably, Minnesota has more E85 stations than any other state, and it was also the first state to require that all the diesel fuel sold statewide contain a biodiesel blend. Also, there are an estimated 5,200 plug-in electric vehicles registered in the state.