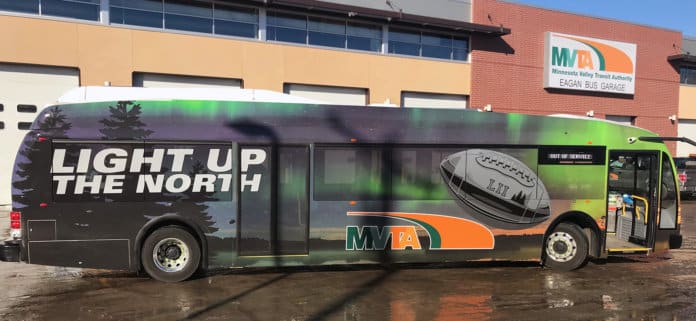 Electric bus maker Proterra has announced that the Minnesota Valley Transit Authority (MVTA) will deploy a 40-foot Proterra Catalyst E2 electric bus to help with the influx of traveling football fans in the area leading up to Super Bowl LII, taking place at the nearby U.S. Bank Stadium in Minneapolis on Sunday.
According to Proterra, the zero-emission, battery-electric bus will be in service on a demonstration basis and represents an economic solution that supports the Twin Cities sustainability goals and commitment to the Paris Climate Agreement.
"As thousands of people flock to the Twin Cities for the Big Game, it's paramount that we deliver on our promise to provide reliable, high-performance transit to all of our riders," says MVTA Executive Director Luther Wynder. "By deploying the Proterra battery-electric bus during the busiest week of the year, we will share this state-of-the-art technology with travelers from near and far."
The routes are scheduled to run during rush hour and weekend peak hours, shuttling MVTA customers from popular destinations such as the Mall of America, the University of Minnesota and Minneapolis, Cedar Grove and Burnsville Transit Stations. Beginning on Friday, Jan. 26 through Feb. 4 on Super Bowl Sunday, the Proterra bus will operate during freezing temperatures. According to Proterra, the vehicle's performance remains reliable through extreme weather because its E2 battery system includes active thermal management which monitors battery cell temperature and voltage, with more than 70 sensors capturing 160 different diagnostic data streams from each battery pack. The company says the Proterra battery also integrates liquid cooling and proprietary state-of-charge algorithms that enable long life, rapid charge times and operation in virtually any climate.
Proterra says MVTA chose the Catalyst E2 because of the bus' proven transit performance in other similar climates such as Worcester Regional Transit Authority in Massachusetts and Park City Transit in Utah.
"With thousands of visitors coming to town, this was the perfect time to team up with MVTA and demonstrate the Catalyst E2 vehicle's unique cold-weather performance capabilities," says Ryan Popple, CEO of Proterra. "To compete in the transit market, we've placed great emphasis on designing for durability, and we've created a drivetrain and battery system that completely outperforms conventional fossil-fuel-powered drivetrains in every major performance category. We're excited to support MVTA and our transit partners as they redefine what it means to move the masses."
Photo courtesy of MVTA's website