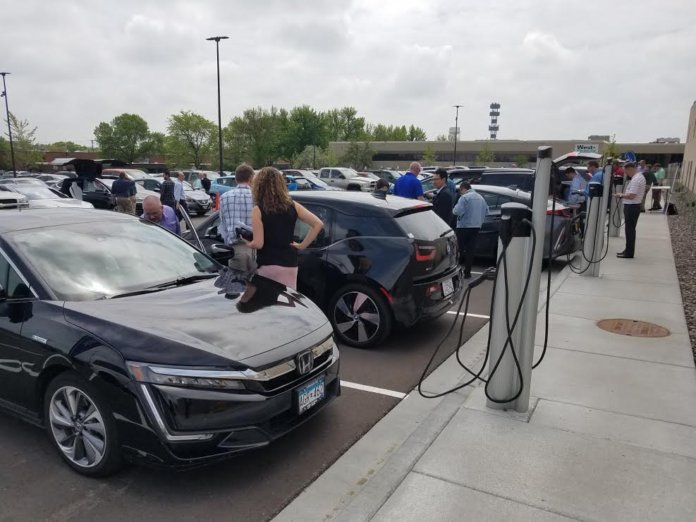 Clean Cities coalitions that are partners on the Midwest EVOLVE project are working with employers throughout the Midwest to help them learn how to set up electric vehicle (EV) charging stations for their employees, as well as encourage employees to consider EVs for their commute to work.
"Our Clean Cities coalitions throughout the Midwest have worked with more than a dozen employers to hold workplace charging workshops, and we have many more planned," says Lisa Thurstin, coordinator of the Twin Cities Clean Cities Coalition, which oversees Midwest EVOLVE. "We've taken electric vehicles directly to work sites and given employees a chance to get behind the wheel of the newest models. We've also educated employers about how to install charging stations at their workplaces."
Midwest EVOLVE, which stands for Electric Vehicle Opportunities: Learning, eVents, Experience, is a partnership between the American Lung Association and Clean Cities coalitions throughout the Midwest to demonstrate the performance and environmental benefits of EVs.
"Workplace charging programs do not have to be costly or complicated," Thurstin emphasizes. "They provide a valuable service to employees who own electric vehicles. They also create an increasingly attractive marketing tool for a business or a building owner to attract and retain employees and/or tenants."
Employers that have worked with or are scheduled to work with Midwest EVOLVE include as follows:
Daikin Applied in Minneapolis;
Michigan Agency for Energy in Lansing, Mich.;
Ohio State University in Columbus, Ohio;
Target Corp. in Minneapolis; and
We Energies in Milwaukee, Wis.
"More than 50 percent of non-residential parking occurs at the workplace, where layover is often between four to eight hours," Thurstin adds. "This extended period where vehicles are sitting in one place is the perfect time to provide electric vehicle owners with an extension in range."
In the seven participating states – Minnesota, Illinois, Indiana, Wisconsin, Michigan, North Dakota and Ohio – Midwest EVOLVE has had approximately 60,000 people attend more than 100 events since the program was announced at the Chicago Auto Show in 2017.