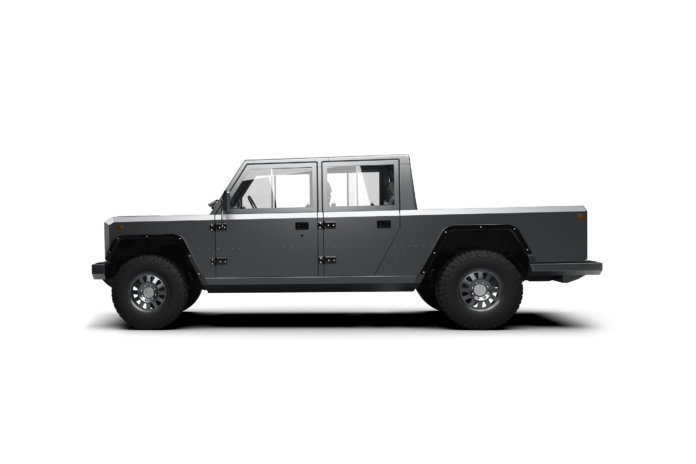 Bollinger Motors has unveiled a preview of the company's newest vehicle design: an all-electric, all-wheel-drive B2 pickup truck.
The development of the street-legal B2 pickup truck follows the company's B1 sport utility truck, which is in the final stages of engineering development.
"The new B2 incorporates everything that we've learned in making the B1 and takes it in an exciting new direction," comments Bollinger Motors' founder, Robert Bollinger. "It's always been the plan to have both the B1 and B2 start off our lineup. Now that we have so much incredible data from testing our B1 prototype, we can put all of that engineering knowledge into our final four-door B1 and B2 vehicles."
Both the B1 and B2 have dual motors, all-wheel drive, hydropneumatic suspension, in-wheel portal gear hubs, a 120 kWh battery pack, large front trunk space, and patented pass-through doors for transporting long items. With storage a big priority, the pickup's bed measures 4′ 1″ wide and 5′ 9″ long.
Like the B1, the B2 will be a Class 3 work truck (10,001 gross vehicle weight rating) with a hauling capability of 5,000 lbs.
Founded in 2014, Bollinger Motors recently relocated its headquarters from New York to the Detroit area. The company plans to manufacture the B2 on the same assembly line as the B1 in 2020. Bollinger Motors is announcing a full suite of vehicle options, pricing and delivery details in 2019.