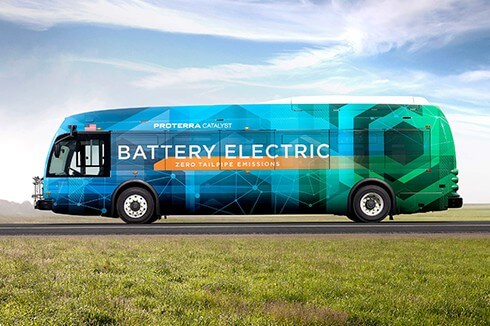 Miami-Dade County is purchasing 33 40-foot Proterra Catalyst E2 electric buses with DuoPower drivetrain technology, along with up to 75 plug-in Proterra chargers.
Proterra says this deal is its largest electric bus order on the East Coast.
"Deploying battery-electric buses is one of the best actions we can take to improve our environment and our community's public health," says Miami-Dade Mayor Carlos Giménez. "We are looking forward to working with Proterra to deliver clean, quiet transportation to Miami-Dade."
Miami-Dade is installing up to 75 plug-in chargers to support future expansion of its electric vehicle fleet. Proterra's purpose-built, high-power charging systems utilize standardized J1772-CCS plug-in technology, providing Miami-Dade the opportunity to charge other electric vehicles in addition to Proterra electric buses. Proterra chargers are also vehicle-to-grid capable and smart-grid ready.
"Miami-Dade has shown exemplary leadership, embracing proven EV technology and planning for a scalable electric fleet implementation," says Proterra CEO Ryan Popple. "Proterra's expertise in vehicle design, battery technology, charging systems and infrastructure installation best positions us to support Miami-Dade's transition to zero-emission transit vehicles."
Miami-Dade has made a commitment to have at least 50% of the county's buses be electrically powered by 2035.