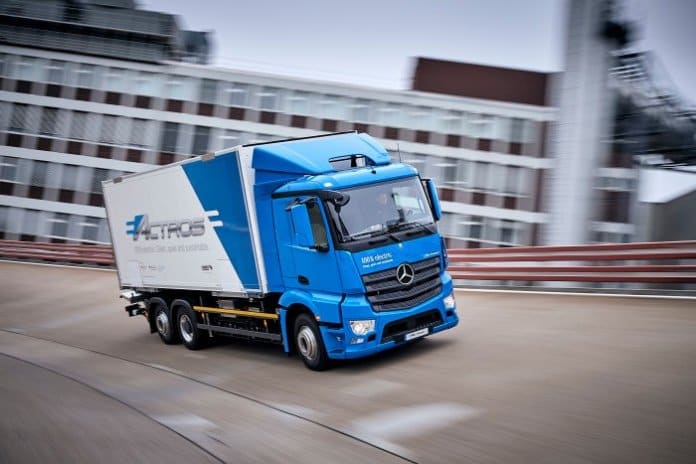 Mercedes-Benz Trucks is putting its heavy-duty electric truck, the eActros, out on the road with customers. Over the next few weeks, 10 vehicles in two variants, with a gross vehicle weight of 18 or 25 metric tons, will be handed over to customers who will be testing the vehicles' everyday feasibility and economic efficiency under real-life conditions.
At the 2016 IAA Commercial Vehicles show in Hanover, Germany, Mercedes-Benz displayed its concept for a heavy-duty electric distribution truck for urban areas. An interdisciplinary team from Daimler Trucks designed the vehicle to be capable of "coping with everyday distribution operations," according to a press release from Daimler. However, a small number of technical and business-related issues remain outstanding – key among them the range and cost of the batteries, as well as the infrastructure required for their use as part of customers' commercial fleets, says Daimler.
"We now want to work together with our customers to move swiftly forward with the development of our Mercedes-Benz eActros to the point where it becomes a viable proposition in tough everyday operations – both technically and commercially," says Martin Daum, the Daimler AG board member responsible for Daimler Trucks and
Buses. "We are beginning this process by creating an innovation fleet and will be supporting its testing in the day-to day logistics environment of our customers. This will enable us to establish just what remains to be done in terms of technical matters, infrastructure and service to make our Mercedes-Benz eActros competitive."
Participating in the fleet test are 10 customers from a variety of sectors in Germany and Switzerland. The companies are Dachser, Edeka, Hermes, Kraftverkehr Nagel, Ludwig Meyer, pfenning logistics, TBS Rhein-Neckar, and Rigterink (Germany) and Camion Transport and Migros (Switzerland).
The pilot customers will be testing the vehicles in real-life operations for 12 months, after which the trucks will be going out to a second round of customers for a further
12 months.
"This will enable us to satisfy the many requests we have had from customers and to gain even more insight," explains Stefan Buchner, head of Mercedez-Benz Trucks. "Our aim is to achieve series production and market maturity for a range of economically competitive electric trucks for use in heavy-duty transport operations with effect from 2021."