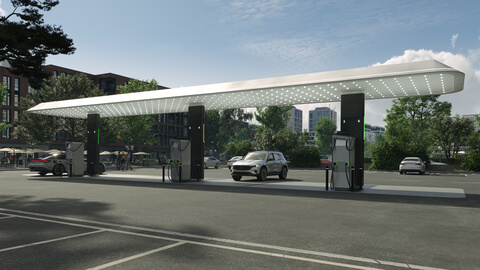 Mercedes-Benz says it will begin opening high-power charging stations in October, with the first Mercedes-Benz Charging Hubs going into operation in Atlanta; Chengdu, China; and Mannheim, Germany.
By the end of next year, Mercedes-Benz aims to further expand its global charging network to over 2,000 high-power charging points. The long-term goal is to create more than 2,000 Charging Hubs with over 10,000 charging points by the end of the decade.
Depending on the region, these charging stations will offer a charging rate of up to 400 kW, provided via the respective standard charging systems CCS1, CCS2, NACS and GB/T. With intelligent charging management, each vehicle can be charged at its maximum power rating, reducing the charging time to an absolute minimum.
Mercedes-Benz says its charging stations will be located at main traffic areas and select Mercedes-Benz dealerships; the network will be open to drivers of all brands.
"Our goal is to create an infrastructure that offers electric vehicles reliable and easy charging options," says Franz Reiner, CEO of Mercedes-Benz Mobility AG. "With the Mercedes-Benz High-Power Charging Network, we are expanding global charging options and setting new standards in electric vehicle charging."