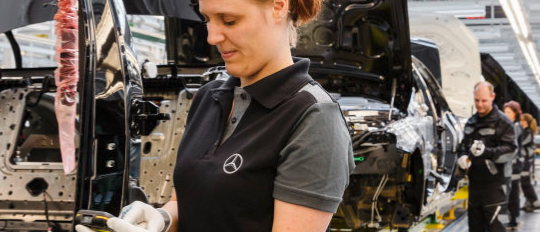 Mercedes-Benz Cars is taking the next step in its electric offensive: The Mercedes-Benz Sindelfingen plant will produce electric vehicles (EVs) of the new product brand EQ, according to an agreement the company and works council signed after intensive negotiations.
"The Sindelfingen site plays an important role in the electric offensive of Mercedes-Benz Cars and is being advanced into a competence center for EV of the upper range and luxury class," says Markus Schäfer, member of the divisional board of Mercedes-Benz cars, production and supply-chain management.
According to the company, the new generation of EVs will be based on an architecture developed specifically for battery-electric models, which is scalable in every respect and usable across all models. It is suitable for all model series, as well as sub-models, such as SUVs, saloons and coupés. Wheelbase and track are variable, the company notes.
The agreement between the company and the works council further allocates the production of the next-generation E-Class to the Sindelfingen plant. In this context, Sindelfingen will be appointed as lead plant for the S- and E-Class production within the global production network of Mercedes-Benz Cars.
"It is very important for the works council and the employees at the site in Sindelfingen to integrate electric vehicles into the series production of conventional vehicles," states Ergun Lümali, chairman of the Works Council Mercedes-Benz Sindelfingen plant. "The agreement is another crucial milestone for the plant's further development as a competence center for innovation and technology. It is also crucial that we were able to secure the production capacity at the site."
Mercedes-Benz Cars is consolidating all activities in connection with electric mobility under the new product brand EQ, and the Concept EQ gives a clear outlook on a completely new generation of vehicles. As reported, Mercedes-Benz Cars plans to launch more than 10 EVs by 2025, in all segments from smart to large SUVs. The company assumes that the proportion of EVs in the total unit sales of Mercedes-Benz will be between 15% and 25%.