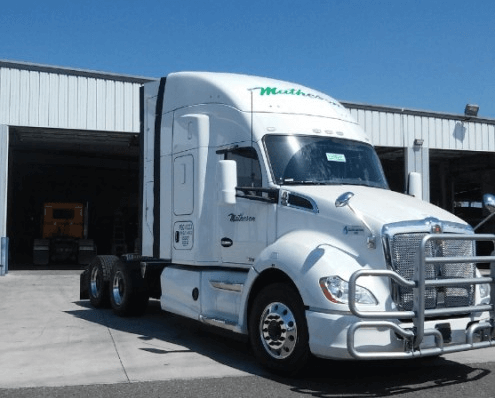 Matheson Trucking Inc. says it is adding 27 new compressed natural gas tractors to its clean energy fleet in 2017, increasing the company's total to 64 alternative energy vehicles.
"Our firm is dedicated to a policy of increasing the use of clean energy fuels to improve air quality, decrease diesel fuel consumption and reliance on foreign oil, while helping to preserve our environment," says Charles Mellor, chief operating officer. "These new CNG tractors are part of that ongoing commitment – with more to come."
The company logs approximately 600 trips each day, totaling an average of 98,600 miles per day driven nationwide. According to Matheson, using natural gas reduces greenhouse-gas emissions by approximately 30% compared to diesel, with significant reductions in sulphur oxide and nitrogen oxide, as well as 40% less carbon dioxide.
Matheson began converting its fleet to clean energy-powered tractors in 2014. Last year, the company had 25 CNG and 12 liquefied natural gas (LNG) tractors for a total of 37.
This year, 27 new CNG tractors are being added. According to the company, 15 of these already support U.S. Postal Service shipments to and from the Los Angeles basin and Las Vegas, and 12 more will be ordered and placed in service this fall in Denver.
With these latest additions, the company's alternative energy fleet inventory totals 64 tractors – representing 26% of its fleet.
"Our new CNG tractors display a fresh, contemporary brand identity with a logo symbolizing our growth and transformation while also celebrating the culture of innovation we have built over a half century in business," says Joshua Matheson, vice president in corporate operations. "It is our way of expressing our values and showing customers and the general public what Matheson is all about."
According to Debra White, vice president for information technology and fleet maintenance, Matheson uses both CNG and LNG in its alternative fuel fleet depending on whether distances to be traveled are short or long haul, the applications involved, time to refuel and other factors.
"We will continue to expand our fleet of natural gas- or alternative fuel-powered tractors wherever it is practical and cost-effective to do so," she states.
Today, the Sacramento-based company has nine Matheson Postal Services terminals supported by maintenance shops in eight western cities and also provides terminal handling services at 27 metropolitan airports across the country.