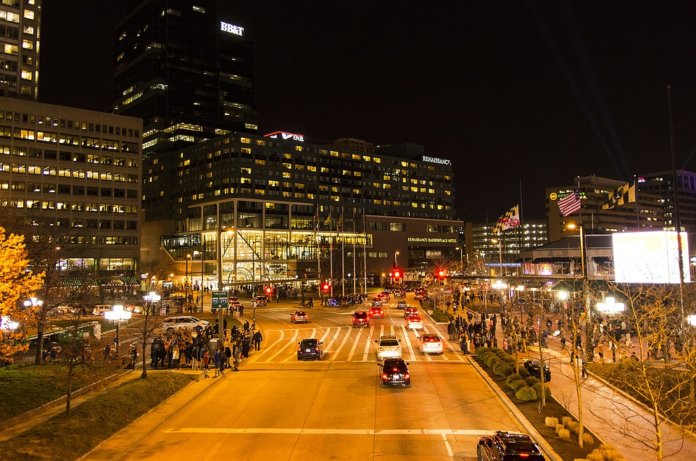 On Monday, in a decision expected to advance the adoption of electric vehicles (EVs) in the state, the Maryland Public Service Commission (PSC) approved a modified version of a five-year EV charging infrastructure pilot program proposed by four of Maryland's largest electric utilities.
The decision supports the deployment of more than 5,000 total Level 2 and DC fast-charging stations in the service territories of Baltimore Gas and Electric Co., Delmarva Power and Light Co., Potomac Edison, and Potomac Electric Power Co. The state has a goal of 300,000 EVs on Maryland roadways by 2025 and has targeted a reduction in greenhouse-gas emissions by 40% (of 2006 levels) by 2030.
"Maryland is taking a significant step toward expanding electric vehicle adoption and reducing our harmful tailpipe emissions with our approval of a proposal to create a statewide EV charging network," says Jason M. Stanek, chairman of the PSC. "[Monday's] decision not only ensures that charging infrastructure will support Maryland's transition to electrified transportation but also maximizes the benefits of smart charging while minimizing cost impacts to ratepayers."
In its decision, the commission noted it was in the public interest to approve the modified pilot programs, which test a limited EV charging deployment at a reduced cost to lessen exposure by Maryland ratepayers. The utilities said their proposed offerings do not place all costs associated with the proposed charging infrastructure on ratepayers. For example, the proposed rebate incentives are designed to supplement other state and local programs covering a portion of EV charger costs.
Overall, according to the PSC, the order supports and encourages coordination with existing state programs and agencies to avoid duplication and promote efficiencies. The commission directed the utilities to seek recovery of EV charging program costs in future base rate case proceedings, where the costs would be subject to a comprehensive review.
The commission gave the green light to the utilities' plans to provide rebates to customers for the costs of chargers with advanced, or "smart," functionality. All four utilities must develop an EV time-of-use (TOU) rate design as part of the residential rebate offerings. TOU rates encourage EV customers to charge vehicles during off-peak hours at a lower cost per unit of energy. In addition to residential customers, the utilities' proposed rebate incentive programs target apartments and condominiums.
In addition, each utility will be required to implement plans to evaluate the performance of the pilot programs, provide progress reports to the PSC every six months, and participate in mid-course and final reviews in hearings before the commission. The EV pilot proposals were initiated as a result of the commission's grid modernization proceeding, known as Public Conference 44.
"This order is an important first step towards Maryland reaching its zero-emission vehicle commitments and 2030 Greenhouse Gas Emission Reduction Act climate goals, but it leaves a lot of work for the state to do in the transportation sector," says Josh Berman, senior attorney at the Sierra Club.
"In particular," he says, "the order leaves an unmet need for extending the benefits of electrified transportation to underserved communities. We appreciate the considerable work by the utilities and other stakeholders to develop the proposals to the commission and look forward to working with all of these groups to help make electric vehicles as cheap, accessible and driveable as possible for all of Maryland's residents."