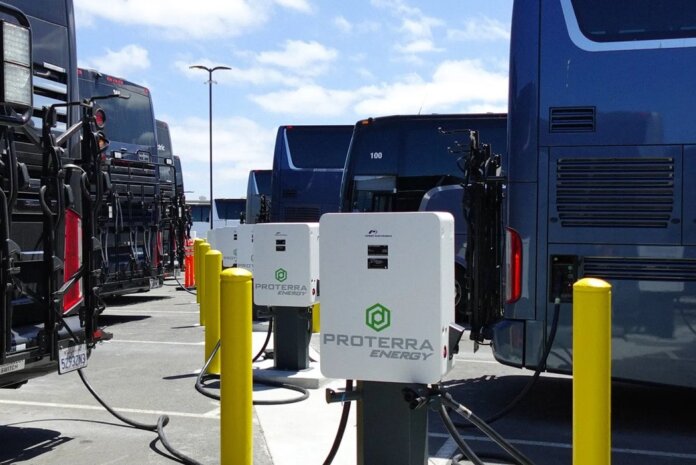 ABC Companies, a provider of motorcoach, transit and specialty passenger transport equipment, has collaborated with Pacific Gas and Electric Co. to open the largest electric motorcoach charging facility in North America.
Located on a 3.5-acre site in Newark, Calif., the facility is equipped to charge up to 40 Van Hool electric motorcoaches featuring Proterra batteries. The 20 dual-cable EV charging dispensers can support up to 1.4 MW of EV charging power.
"As the largest passenger motorcoach and minibus dealer in North America, we are going beyond selling and supporting these vehicles, as we educate, demonstrate and invest in zero emissions commercial transportation to accelerate EV adoption," says Roman Cornell, CEO of ABC Companies.
"In under two years, over 20 percent of our motorcoach sales are now battery-electric vehicles," he continues. "However, the rapid growth in our commercial EV sales requires a corresponding charging infrastructure capable of handling the size and power requirements of these vehicles."
Proterra Energy provides fleet operators with a comprehensive set of EV charging solutions to scale their zero-emission commercial vehicle fleets, paired with Proterra's decade of charging installation experience. Proterra's team of electrification experts recommend the ideal fleet charging solution for each project, optimized for usability, physical footprint, power and cost.
PG&E's EV Fleet program is accelerating EV adoption for commercial customers, helping medium- and heavy-duty fleet customers easily and cost-effectively install charging infrastructure via comprehensive construction support and financial incentives. To date, the EV Fleet program has contracted with more than 180 sites to support the electrification of over 3,700 medium- and heavy-duty vehicles in PG&E's service territory.