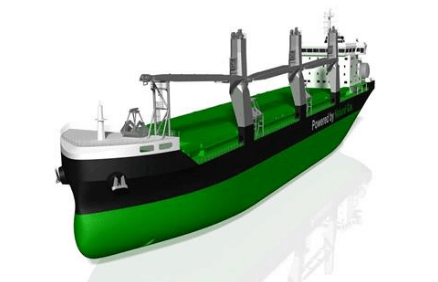 MacGregor, part of Cargotec, and ESL Shipping Oy, part of Aspo Plc, have agreed to jointly develop and test an autonomous discharging feature on MacGregor bulk handling cranes, which will be fitted on board ESL Shipping's two new liquefied natural gas-powered handysize bulk carriers.
"Our new environmental friendly LNG-fueled ships will be operated in very demanding trade, with high number of voyages, port calls and crane operation hours annually. Autonomous operation will further increase our competitiveness and offer our clients unforeseen efficiency and safety," says Mikki Koskinen, managing director at ESL Shipping Oy.
Leif Bystrom, senior vice president of cargo handling at MacGregor, comments, "Autonomous crane operation improves efficiency and safety. Discharging operations can be monitored and controlled from the bridge and, therefore, eliminate the need for personnel in hazardous operational areas.
"By combining the expertise of a forward-thinking shipowner and operator with our expertise in intelligent cargo handling, we can reduce unnecessary waste in the value chain and, therefore, develop safer and more efficient solutions for unloading bulk cargoes," continues Bystrom.
The LNG vessels are planned to enter service during the second quarter of 2018, when automation testing will commence.
As previously reported, LNG is becoming an increasingly popular fuel option in the marine shipping industry. For example, SEA\LNG, a multi-sector industry coalition, recently signed a memorandum of understanding with the Society for Gas as a Marine Fuel to break down the commercial barriers to the uptake of LNG as a marine fuel and to develop guidelines and best practices for safety, operational and technical aspects.
In addition, many companies are taking steps to support LNG fueling infrastructure. ExxonMobil, Eagle LNG Partners LLC and Crowley recently signed a memorandum of understanding to establish the storage and technical support necessary to provide safe, reliable LNG delivery for vessel operators bunkering in North America.
Further, Shell Gas & Power Developments B.V. also recently signed a framework agreement with Qatar Petroleum's Wave LNG Solutions to develop LNG marine fueling infrastructure at strategic shipping locations across the globe, as increasing numbers of ship owners and operators are responding to tighter sulfur and nitrogen oxide emissions regulations.