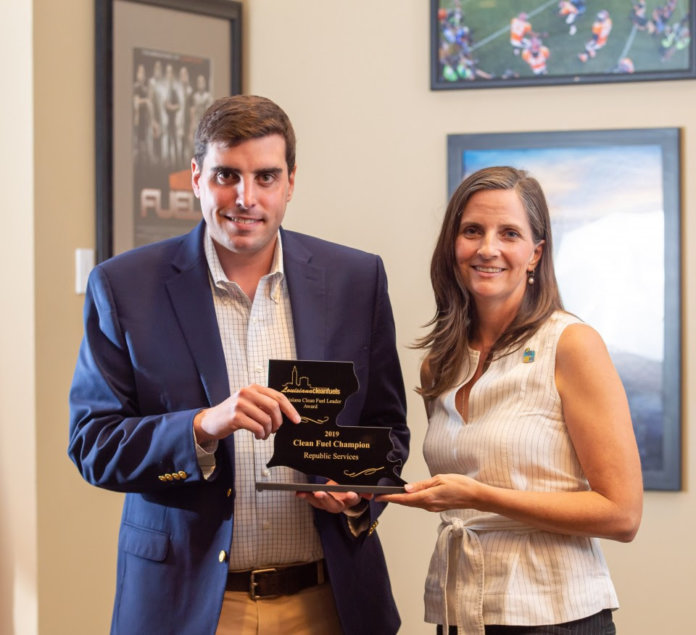 Louisiana Clean Fuels (LCF) announced the winners of the Clean Fuel Leader Awards on Wednesday evening, Oct. 9, at a welcome reception held in conjunction with the Clean Fuels Summit.
LCF, a designated U.S. Department of Energy Clean Cities Coalition, awards outstanding alternative fuel users in the organization's territory each year. The Oct. 9 event was sponsored by ROUSH CleanTech, and Ann Vail, LCF's executive director, presented the awards.
Republic Services received the highest honor, Clean Fuel Champion, for reducing more than 19,000 tons of greenhouse-gas emissions in 2018. Republic Services uses compressed natural gas in LCF's territory to fuel refuse trucks. In addition, Republic Services reduces emissions and fuel usage through other methods, including idle reduction, vehicle miles traveled reduction and fuel economy improvements. The award was accepted by Steven Carville on behalf of Republic Services (pictured above).
UPS received the Clean Fuel Champion Runner-Up award for the second-highest reduction of GHG emissions, with over 800 tons reduced. UPS operates biodiesel, propane and natural gas vehicles within LCF's territory. According to the company's sustainability report, its goals include sourcing 40% of ground fuel from "low-carbon or alternative fuels by 2025" and having 25% of its annual vehicle purchases be alternative fuel and advanced technology vehicles.
Southwestern Electric Power Co. (SWEPCO) was honored for its corporate leadership in recognition of efforts to support the development of an electric vehicle charging corridor along interstate highways. It has supported the Louisiana Clean Fuels DC Fast Charging Master Plan and the Louisiana Electric Vehicle Road Show and has launched efforts to rally community leaders and major utilities in the state to submit proposals for funding for chargers from the state's Volkswagen Settlement plan.
"We're proud to partner with Louisiana Clean Fuels and honored to receive the 2019 Corporate Leadership Award," said Chelsea Adcock, consumer programs marketing coordinator for SWEPCO, who accepted the award on SWEPCO's behalf (pictured right). "LCF has been a valuable resource as we determine the most effective and efficient way to bring electric vehicle infrastructure and, hopefully, Electric Vehicle Alternative Fuels Corridors, to northwest Louisiana and its residents."
The Paretti Family of Dealerships was recognized with the Dealership of the Year award for its continued work in promoting electric vehicles and its active participation in LCF's events throughout the year. The Paretti Family of Dealerships has been a prominent sponsor of LCF's Louisiana Electric Vehicle Roadshow, and the company has shown its Jaguar I-PACE at several Road Show and National Drive Electric Week events.
Waste Management's fleet was recognized as having the largest growth by volume of alternative fuel usage. It grew its natural gas usage by more than 300,000 GGEs in 2018. In addition, the Most Improved Fleet Award went to Eagle Distributing of Shreveport, La., for growing its alternative fuel usage in 2018 by 10 times over the previous year.
Louisiana Department of Environmental Quality (LDEQ) secretary Dr. Chuck Carr Brown was recognized for his leadership in public service, with special recognition of LDEQ's diligent work on the Volkswagen Mitigation Settlement, as well as efforts with alternative fuel corridors. Vail presented the award to Brown (pictured left) at the reception.
"LDEQ supports the work Louisiana Clean Fuels does to promote the use of alternative fuels and zero emissions vehicles in our state," Brown said. "We are all working toward a cleaner environment, and we have made great progress in Louisiana. LCF's efforts have been key to achieving those gains."
Other awards were also given out:
Both Stone Oil and AmeriGas were awarded the "Top in Class" award for their Idle Reduction programs. Stone Oil reduces the emissions of marine vessels while they are docked in their ports by allowing the vessels to plug in to "shore power" and turn off their diesel engines. AmeriGas' own idle reduction policies and equipment have reduced the amount of fuel wasted when vehicles are parked, resulting in the largest fuel savings for any on-road fleet in LCF's territory.
Ferrel Gas was honored for reducing the most vehicle miles traveled by simply optimizing routes. This resulted in a massive reduction of fuel use for the company.
Commuter Krewe was honored for its work to reduce the number of single-occupancy vehicles driving in the Baton Rouge area.
The Entergy E-Tech program was awarded "Most Innovative Incentive Program" for its electrification rebate program for utility customers. Entergy customers can apply for a rebate by replacing large gaseous equipment with electric ones (e.g., electric forklifts) or by installing electric vehicle charging stations.
The following entities were also recognized for their efforts in reducing emissions and conserving fuel:
Best Performing Municipality without Transit: St. Landry Parish
Best Performing Municipality with Transit: Shreveport (SporTran)
Best Performing School District: East Baton Rouge Parish
Most CNG Used: Republic Services
Most Propane Used: UPS
Most E85 Used: LDEQ
Most Renewable Natural Gas Used: Waste Connections
Most Electric Used: SporTran
Above and Beyond Award: Jeff Cantin, president of Solar Alternatives
Community Spirit Award: Louisiana Tesla Owners and Dreamers Facebook Group