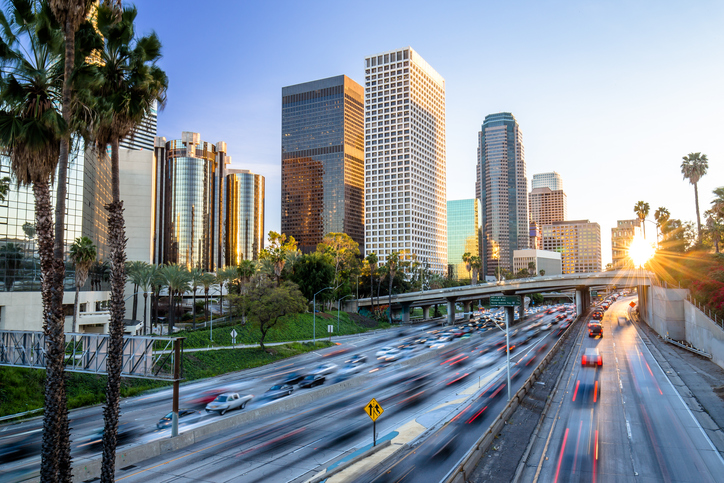 Proterra has announced that the Los Angeles Department of Transportation (LADOT) will receive 25 of the manufacturer's 35-foot Proterra Catalyst electric buses in 2019, in response to a significant commitment by the City of Los Angeles to deploy an all-electric bus fleet by 2030. The procurement will be funded, in part, by Federal Transit Administration Low or No Emission Vehicle (Low-No) program grants.
"Our goal is a 100 percent electric bus fleet – it's a quiet ride for our customers and cleaner air for our city," says Seleta Reynolds, LADOT's general manager. "We know we can't achieve our vision without partners like Proterra, and we can't wait to see these buses on the street!"
According to Proterra, LADOT Transit provided 21,536,305 passenger trips in 2016 within Los Angeles, across 468 square miles. The agency has committed to electrifying all 359 fleet vehicles by 2030.
Proterra says its 25 battery-electric buses will replace compressed natural (CNG) buses and are expected to deliver cost savings of $11.2 million to LADOT Transit over a 12-year lifetime because they require less energy to operate and have reduced maintenance costs.
This commitment from LADOT contributes to a larger precedent in Southern California set by neighboring transportation agencies, including Foothill Transit, the Los Angeles County Metropolitan Transportation Authority (LA Metro) and the Antelope Valley Transit Authority (AVTA), to go fully electric over the next 15 years.
"Los Angeles County is home to our manufacturing facility in the City of Industry, where we manufacture the Catalyst electric buses, so it is fitting that our buses will be deployed in nearby regions," comments Ryan Popple, CEO of Proterra. "We're proud to support transit agencies in meeting their climate action goals through the procurement of battery-electric buses. We applaud these agencies for their efforts to create an experience that supports healthy communities."