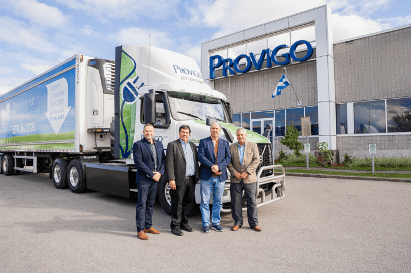 Loblaw Companies Ltd., the largest food and pharmacy retailer in Canada, has deployed two Volvo VNR Electric trucks to service its grocery stores in the greater Montreal area.
"Loblaw has been purchasing Volvo trucks for more than 25 years. With the adoption of the Volvo VNR Electric, we are taking our partnership to a new level, uniting in our commitment to decarbonizing the transportation industry," says Peter Voorhoeve, president of Volvo Trucks North America.
The Class 8 Volvo VNR Electric was designed as a zero-tailpipe emission solution for fleet operators supporting local and regional distribution, pickup and delivery, and food and beverage distribution. Loblaw is using two 6×4 tractors with a six-battery-pack configuration and a range of up to 275 miles, both of which will operate out of the company's distribution center in Boucherville, Quebec, on routes that cover approximately 200 km a day across two eight hour shifts.
Loblaw added the zero-tailpipe emissions Volvo VNR Electric to support the company's sustainability initiatives and reduce the environmental impact of its operations, as it strives to achieve net zero by 2040. The company plans to steadily expand adoption of battery-electric trucks as they work toward their goal of fully transitioning to zero-tailpipe emission day cabs by 2030.
"We operate stores within 10 kilometers of 90% of Canadians, which means we run thousands of deliveries every single day and millions per year," says Rob Wiebe, chief administrative officer for Loblaw. "Finding viable solutions to decarbonize our transportation fleet is critical, as we work to fight climate change. It's thanks to the innovation and dependability of organizations like Volvo Trucks North America that we'll be able to achieve this goal."
To support its battery-electric trucks, Loblaw installed four chargers, including a 175 kW high-power fast charger. The Volvo VNR Electric trucks have a battery capacity of 565 kWh and can be fully charged in approximately 90 minutes.
The trucks will be maintained and serviced by authorized Volvo dealer Camions Volvo Montreal, which was named as one of the first two Canadian dealerships to earn the designation of Volvo Trucks Certified Electric Vehicle Dealership.