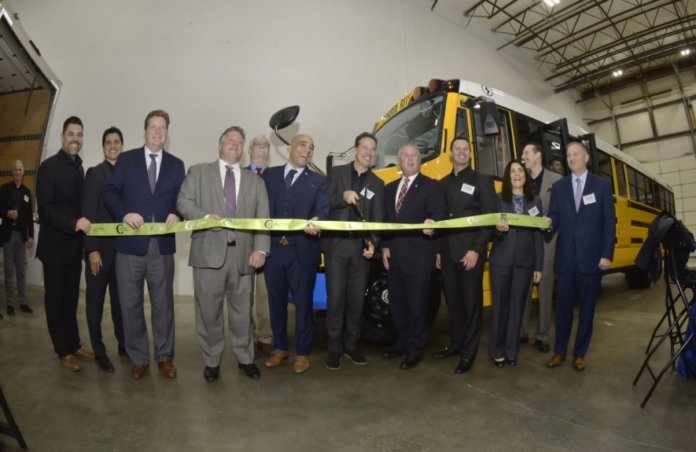 The Lion Electric Co., a Canada-based electric vehicle (EV) manufacturer, has opened its second "Lion Experience Center," located in Green Island, N.Y.
The company opened its first experience center in Sacramento, Calif., last fall, offering training programs to help educate the public on electrification.
Similar to the first center, the new location will help educate school districts, truck fleet operators and transit bus operators on the possibilities offered by Lion's electrification. The center will also provide learning opportunities on EV capabilities, charging infrastructure and available funding, as well as offer vehicle tours. The Town of Green Island is located 8 miles away from New York's capital, Albany.
"Lion is dedicated to the New York market, and we are taking another step towards accelerating adoption of heavy-duty, zero-emission vehicles by opening a Lion Experience Center here in the heart of this great state," says Marc Bedard, founder and CEO of Lion. "Our experience center will continue to serve many purposes but will be a space where the EV community can gather for teaching, learning, training and education purposes primarily."
"Our capital region is a natural home for this exciting project, which will draw on innovative technologies to help create and support good jobs, drive research, reduce climate pollution, and support our transition to a cleaner, more sustainable transportation system," says U.S. Rep. Paul Tonko, D-N.Y.
Basil Seggos, commissioner of New York State's Department of Environmental Conservation (DEC), adds, "New York is leading the nation in reducing our carbon footprint, supported by significant investments and initiatives to reduce greenhouse-gas emissions from the transportation sector, which is currently the largest source of this climate-altering pollution. New innovative, emission-free trucks and buses, like those produced by Lion Electric, reduce air pollution and benefit public health and our environment. DEC is encouraged by Lion Electric Co's innovation and work to promote and educate stakeholders and future generations about the importance of clean energy and cleaner transportation options."