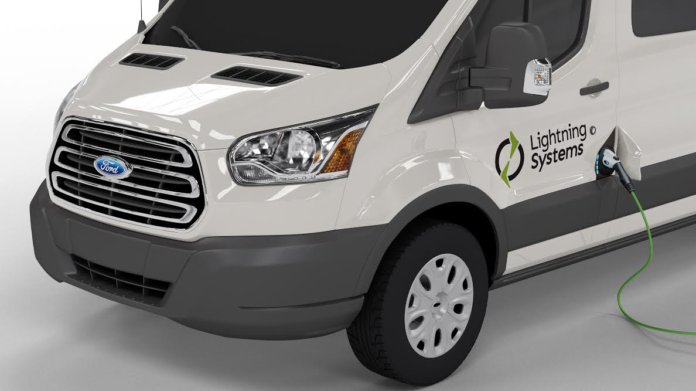 Lightning Systems, a Colorado-based developer of zero-emissions drivetrains for commercial fleets, has received an executive order from the California Air Resources Board (CARB) for the zero-emissions Lightning Electric model.
Lightning Electric is a battery-electric drivetrain package for the Ford Transit 350HD, a product used extensively by commercial and government fleets.
Lightning Systems tested the product under the newly released 2018 CARB efficiency and range validation test procedures for medium-duty vehicles. The testing was performed at the SGS Environmental Testing Center in Aurora, Colo., and guided by the engine certification team at ECO Inc.
Results demonstrated that the Ford Transit 350HD equipped with the zero-emissions Lightning Electric drivetrain achieved 61 MPGe on EPA City routes and 66 MPGe on EPA Highway routes, compared to 13 MPG and 15 MPG, respectively, for the identically configured gasoline Ford Transit 350HD. The 50-mile range system was rated at 54 miles all-electric range, and the 100-mile range vehicle came in at exactly double at 109 miles all-electric range, says XL.
"Our team worked hard to complete CARB's rigorous testing and approval processes," says Brian Johnston, director of regulatory affairs for Lightning Systems. "We were very pleased with the test results that rated the 100-mile system at 109 miles and 1.61 miles per kilowatt-hour. This is great news for fleets looking for ways to reduce their environmental footprint and eliminate the maintenance and service required by diesel and gasoline vehicles."
Lightning Electric for the Ford Transit is offered throughout the U.S. as part of Ford's eQVM program. The product is available for Ford Transits with a 10,360-pound gross vehicle weight rating. Ford's vehicle warranty covers the base chassis for vehicles with the Lightning drivetrain, and Ford QVM dealers and upfitters perform installations and service.
In California, the first Lightning Electric vehicles will be deployed by XPO Sales Inc. for the LAX Wingate Hotel in Los Angeles.
"This is an ideal vehicle for public or private fleets that operate shuttle and paratransit buses, logistics and delivery trucks, and food and beverage vehicles," Johnston adds. "Currently, vouchers for $50,000 to $65,000 per vehicle are a significant incentive for California fleets to purchase our industry-leading technology."