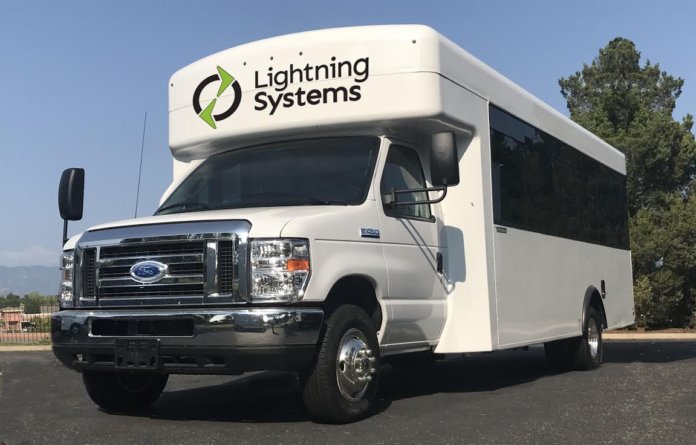 Colorado-based Lightning Systems, a global developer of zero-emission drivetrains for commercial fleets, has announced new battery-electric powertrain options for the Ford E-450 shuttle bus and Ford E-450 cutaway.
The new Lightning Electric models for the Ford E-450 will be available in a 14,500-pound gross vehicle weight rating with an all-electric range of 110 miles. Orders are being accepted immediately, and delivery of the new products will begin by the end of this year.
"We've become the only stop you have to make to get zero-emission vehicles for all of your fleet needs," says Tim Reeser, CEO of Lightning Systems. "This follows our strategy of electrifying popular high-quality platforms in the Class 3 to 8 segments. Fleets can get the job done around town or on the work site while saving fuel and meeting their sustainability and environmental goals."
The new Lightning Electric Ford E-450 model will offer a peak power of 220 kW, which is the equivalent of 295 horsepower, says Lightning. The torque is rated at 700 Nm, equal to 516 pound-feet.
Further, there is a five-year, 60,000-mile warranty on the powertrain with maintenance performed by trained local dealers. Clean fleet vouchers and incentives are available in many states through the Volkswagen Environmental Mitigation Trust, notes Lightning.
The new model will have an electric range of 110 miles, depending on route and driver. In addition, full regenerative braking adds range while reducing wear and tear on the friction brakes. Featuring a liquid-cooled, lithium-ion battery system, the new Lightning Electric Ford E-450 will accommodate a full charge in two hours with DC fast-charging, the company adds.
In addition to the new all-electric E-450, existing vehicles can be repowered to be zero-emission trucks and shuttles with the Lightning powertrain.
"Now we have high-quality zero-emissions vehicles available for commercial and government fleets in the medium-duty and heavy-duty segments, from the Ford Transit all the way to our all-electric repower product for transit buses," Reeser adds.
Lightning Electric is available for the Ford E-450 as part of Ford's eQVM (Advanced Fuel Qualified Vehicle Modifiers) program. Ford's vehicle warranty covers the base chassis for vehicles with the Lightning drivetrain.
Lightning Analytics, a cloud-based analytics system providing predictive maintenance, route scoring, range analysis, driver behavior and geofencing, is also available as an option on every Lightning Electric vehicle.