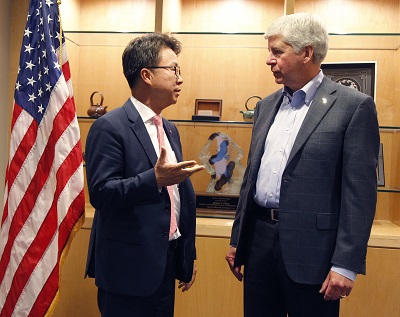 LG Electronics Inc. says it is establishing a U.S. factory in Hazel Park, Mich., for the manufacture of advanced electric vehicle (EV) components.
The 250,000-square-foot facility in the Detroit suburb will produce EV components starting in 2018. The project will lead to at least 292 new Michigan jobs, including factory workers in Hazel Park and engineers at the expanded LG R&D Center in Troy, Mich.
LG says its first-half 2017 global revenues for vehicle components were more than $1.5 billion, a 43% increase from the same period last year, thanks in large part to the successful collaboration with General Motors on the popular Chevrolet Bolt EV. The company notes that vehicle components represent the fastest-growing business line of LG Electronics.
"LG's great technological advancements and our outstanding workforce will help pave the way for the vehicles of the future right here in Michigan," said Michigan Gov. Rick Snyder during the announcement.
Representing an investment of about $25 million, the project is supported by a $2.9 million capital grant under the Michigan Business Development Program over the next four years. LG also will receive hiring and training assistance from the state, including MI Works support in cooperation with local community colleges, and from the cities of Hazel Park and Troy.
Photo: Ken Chang, LG Electronics USA senior vice president and head of the LG Vehicle Components North American Business Center, and Michigan Gov. Rick Snyder