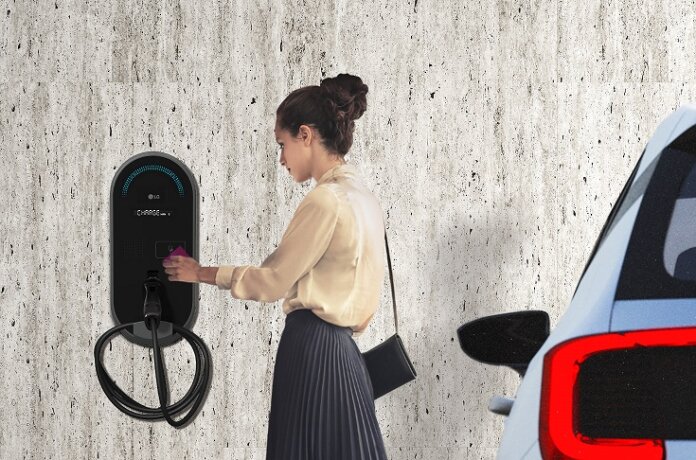 LG Electronics will enter the rapidly growing U.S. electric vehicle charger market in 2024 with the introduction of its first line of AC- and DC-powered EV charging stations.
According to LG Business Solutions USA's Senior Vice President Nicolas Min, the line will include Level 2 and Level 3 EV chargers, opening new opportunities for businesses, municipalities and other public places to support electrification with independently owned and operated charging stations.
"LG is committed to delivering systems and solutions to help U.S. commercial customers develop the infrastructure to charge electric vehicles, which is critical to the success of the industry and the nation's clean energy goals," Min says. "Our product roadmap supports various use cases to provide a flexible, adaptable family of EV chargers to keep America moving as electric vehicles continue to grow in popularity and capabilities."
LG says the U.S. will need hundreds of thousands of additional Level 2 and Level 3 chargers to support the growing number of EVs on the road, and the company will help individual businesses take part in the market without relying on third-party owner operators. By giving hotels, restaurants, venues, transit hubs, municipal buildings and other locations the opportunity to own and operate their own EV charging stations, LG will empower them to set their own rates and ensure enough capacity to meet local demands.
LG's initial product line for the U.S. market will include Level 2 AC chargers with a load management solution and variable current settings enabling 11 kW of output power through a standard SAE J1772 connector.
The Level 2 AC charger will be designed for simple wall mounting with an optional stand that enables placement anywhere.
Also planned for next year is LG's first Level 3 DC charger, a stand-type model with a connected power bank that provides fast charging up to 175 kW through CCS1 and NACS connectors. The Level 3 model will feature a large outdoor LCD touchscreen display that can serve multiple functions for various owners and use cases.
Complementing LG Electronics' entry into the EV charger market, its sister company LG Energy Solution is a producer of EV batteries, investing billions of dollars in U.S. manufacturing.
The new LG chargers coming next year will feature LG software to enable integration with other LG infrastructure elements including digital display networks. Some models may offer additional revenue opportunities through included digital displays that can present third-party advertisements.