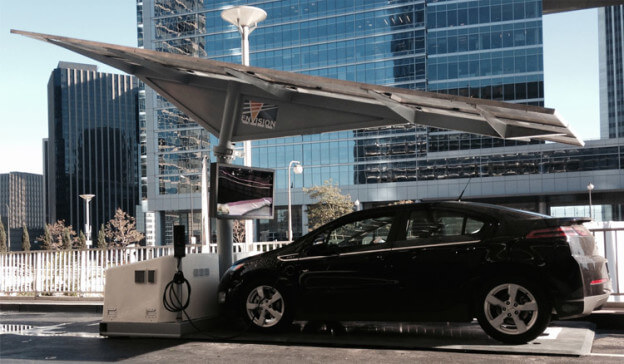 Envision Solar International Inc. says the Lawrence Livermore National Laboratory will deploy two EV ARC units to provide electric vehicle charging for its fleet vehicles.
Lawrence Livermore National Laboratory is in the process of transitioning 30% of its fleet to zero-emissions vehicles. The EV ARC product's ease of deployment and environmental impact-free installation, coupled with truly emissions-free driving, were major factors in the lab's decision to select the EV ARC over grid-tied options, Envision Solar says.
The EV ARC fits inside a standard parking space and generates enough solar electricity to power up to 225 miles of EV driving in a day. The system's solar electrical generation is enhanced by EnvisionTrak, which causes the array to follow the sun, generating up to 25% more electricity than a fixed array. The energy is stored in the EV ARC product's energy storage for charging day or night and to provide emergency power during a grid failure.
Because the EV ARC product requires no trenching, foundations or installation work, it is deployed in minutes and can be moved to a new location with ease.
"We are excited about the opportunity to convert some of our fleet of government vehicles to electric, and the Envision Solar product will be instrumental in giving us a portable Level II charging platform in locations that are not practical to be hard-wired," says Stu Jossey, a manager of fleet services at Lawrence Livermore National Laboratory. "Our employees are very eager to take advantage of this solar charging opportunity at locations across our facility."
EV ARC products are manufactured in the company's San Diego facility.