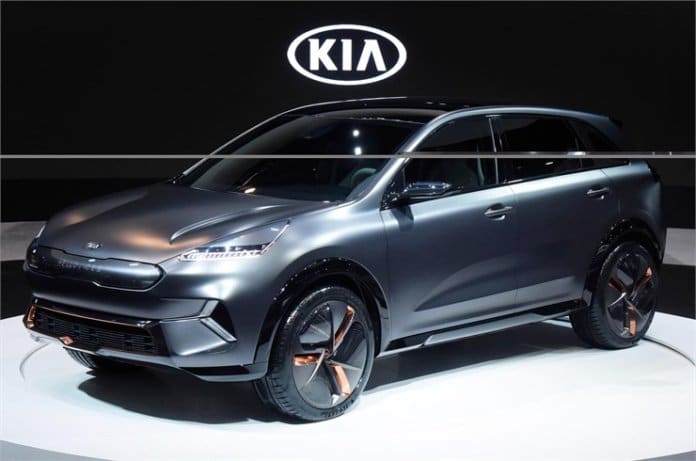 Kia Motors has revealed plans to offer a total of 16 new electrified vehicles by 2025, including a fuel cell electric vehicle (FCEV) in 2020.
The company made the announcement when presenting its new "boundless for all" future mobility vision at this week's 2018 Consumer Electronics Show (CES) in Las Vegas, where the automaker is also demonstrating a range of new technologies as part of its "ACE" strategy to make its cars more Autonomous, Connected and Eco/Electric.
"By 2025, we will offer a total of 16 advanced powertrain vehicles, with five new hybrids and plug-in hybrids, five new battery EVs, and an all-new mass-market FCEV. Due to launch in 2020, this FCEV will spearhead Kia's efforts to realize a zero-emission future for mobility," says Dr. Woong-chul Yang, vice chairman and head of Kia's R&D center.
As part of this strategy, Kia is exhibiting the Niro EV Concept at this week's CES event. Created by the company's design studio in Korea, the Niro EV Concept is a fully electric  SUV with a next-generation powertrain using new production technologies earmarked for near-future EVs from Kia. Energy is provided by a high-capacity 64 kWh lithium-polymer battery pack, paired with a powerful 150 kW electric motor, the company says. The Niro EV Concept suggests a driving range of 238 miles (383 kilometers), with zero tailpipe emissions.
Alongside its new technologies, Kia has revealed plans to roll-out its "WiBLE" car-sharing service – launched in Korea last year – to new regions from 2018, starting with Europe.
Kia's full announcement is available here.
Photo of Niro EV Concept vehicle courtesy of Kia