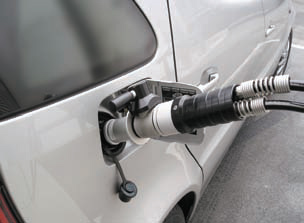 Iwatani Corp. of America, a wholly owned subsidiary of Japan-based hydrogen supplier Iwatani Corp., recently acquired four hydrogen refueling stations in California from Messer (formerly Linde LLC).
The retail stations, located in West Sacramento, Mountain View, San Ramon and San Juan Capistrano, are capable of supplying up to 350 kg of hydrogen per day, says Iwatani.
The acquisition marks Iwatani's entry into the U.S. hydrogen refueling station market and expands the company's global network to 30. Iwatani currently supplies 26 hydrogen refueling stations in Japan, as well as industrial customers, via three liquid and 10 gaseous hydrogen production plants throughout the country.
"The four California stations are the first of a series of stations intended by Iwatani for deployment in the western part of the United States," comments Mineharu Okamoto, president of Iwatani Corp. of America. "Iwatani is committed to continuously improving the customers' experience, and a number of upgrades are planned for the acquired stations. Our multiyear development program is aligned with plans by automakers and the State of California to extend the hydrogen supply-chain infrastructure and make fuel cell electric vehicles available to consumers in the expanding U.S. market."
Chris Ebeling, executive vice president of sales and marketing for U.S. bulk at Messer Americas, adds, "Messer has successfully operated these four fueling stations for several years and feels confident that the stations will be in good hands going forward with Iwatani Corp. of America. Messer will continue to support Iwatani Corp. of America in a transition period for several months and also provide liquid hydrogen supply with respect to these stations."
Craig Scott, director of advanced technologies at Toyota USA, notes, "Toyota and Iwatani have a long history of collaboration, and Iwatani's commitment and entry into the U.S. market is another indicator that a hydrogen-based society is in our future."
Iwatani Corp. of America has corporate offices in Houston and Santa Clara, Calif. The company is a steering member of the Hydrogen Council, an executive board member of the California Fuel Cell Partnership, and a member of the California Hydrogen Business Council.
"California is committed to reducing greenhouse-gas emissions, specifically from on-road motor vehicles," Okamoto continues, "and has demonstrated significant support for the creation of a hydrogen infrastructure – which is what attracted Iwatani to invest in California, as well as establishing its new branch office in Santa Clara. Several state agencies, including the California Energy Commission, Bay Area Air Quality Management District and South Coast Area Quality Management District, have provided important and much-appreciated grant funding towards the development of these stations, as well as funding that, in part, offsets ongoing maintenance expenses."