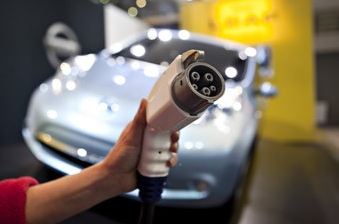 Thanks to a $4 million grant from the U.S. Department of Energy (DOE), motorists with electric vehicles (EVs) will soon be able to quickly charge those cars throughout Utah, Wyoming and Idaho.
As reported, the DOE selected Rocky Mountain Power to develop 1,500 miles of electric highway corridors along I-15, I-80, I-70 and I-84. The grant will also develop innovative smart mobility programs to encourage electric car-sharing and advance the use of electric buses and bikes to create an emission-free community experience.
Notably, the grant's target is to double the number of EVs in the region to more than 50,000 cars in the next 10 years, resulting in the annual reduction of 251 million pounds of CO2 emissions and 24.9 million gallons of gasoline.
"Our goal is to have enough charging stations to help electric vehicles go from Disneyland to Yellowstone and everywhere in between," says Cindy A. Crane, Rocky Mountain Power president and CEO. "This initiative makes Utah a leader in the nation for electric transportation."
The grant will be used to do the following:
Build DC fast chargers every 100 miles along the corridors and AC level 2 chargers in every major community in the region (see map);
Offer incentives for employers to install EV charging stations at their places of work;
Help businesses purchase 200 EVs and more than 13,800 electric rental vehicles;
Evaluate the impact of the charging stations on the electric grid; and
Build community partnerships to develop smart mobility programs to use technology, collect data and develop best practices to meet long-term transportation plans.
Rocky Mountain Power and project partners were selected through a highly competitive process against hundreds of proposals from across the country. The project partners include the Utah Office of Energy Development, University of Utah, Utah State University, Salt Lake City, Utah Clean Cities Coalition, Breathe Utah, Idaho National Laboratory and others.
"Through unprecedented partnerships, Utah has driven its legacy as the Crossroads of the West to become a new national hub for electric vehicle innovation," says Laura Nelson, Utah governor's energy advisor and executive director of the governor's Office of Energy Development. "We look forward to accelerating our EV infrastructure to support our growing needs along the Wasatch Front, as well as to provide access to Utah's Mighty Five National Parks, and other unrivaled recreation destinations."
The grant was made possible because of the Sustainable Transportation and Energy Plan (STEP).
The Utah Public Service Commission approved the plan in December to provide $2 million in funding each year to provide incentives for EV charging stations. As reported, the incentives are part of a larger five-year pilot program authorized by the Utah legislature last March for the STEP act.
"More electric vehicles on the road means fewer emissions in the air," says Rep. V. Lowry Snow, Utah House sponsor for STEP. "These incentives will mean more chargers and less range anxiety for motorists who want to purchase an electric vehicle."
Funds will be provided for residential and commercial EV charger rebates, education about EVs, and grant-based projects and partnerships.
"STEP is win-win-win legislation because it helps improve the air and economy without raising taxes or hiking electricity prices," says Sen. J. Stuart Adams, Utah Senate sponsor for STEP.
A report by the Electric Power Institute and Natural Resources Defense Council projects the widespread adoption of EVs could reduce annual emissions by 45% to 77% by 2050 – equivalent to removing 80 to 100 million passenger cars from the road.
"Vehicles contribute about half of the emissions during winter inversions," says Alan Matheson, Utah Department of Environmental Quality executive director. "Therefore, replacing our fleet with low- or no-emission vehicles is a critical strategy to clean our air. This electric vehicle initiative is an important step toward that goal."
EV sales have reached more than 153,000 in 2016 – up more than 32% from the previous year. Total EV sales since 2010 now stands at more than 560,000. Further, the U.S. Department of Energy Office of Energy Efficiency and Renewable Energy reports nearly two-thirds, 63%, of all U.S. households have a garage or carport available for an EV charging station.