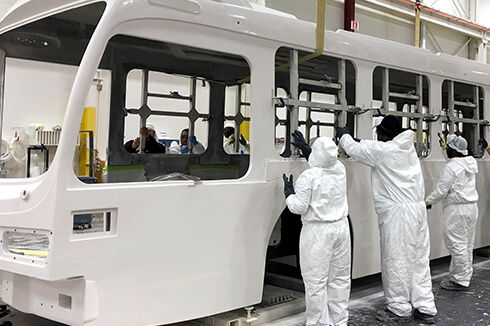 Last week, representatives from electric bus maker Proterra, TPI Composites, Des Moines Area Rapid Transit (DART) and General Electric joined Iowa state officials to celebrate Iowa's clean transportation journey at TPI's factory in Newton, Iowa.
At this factory, which has more than 1,000 associates, TPI manufactures composite wind blades for the wind energy market, as well as Proterra's composite bus body for North American customers.
"We are here to celebrate the TPI Composites plant in Newton, Iowa, and to recognize Iowa's leadership in wind energy and clean transportation," said Gov. Kim Reynolds, R-Iowa. "This plant is a remarkable example of innovative partners working towards sound, sustainable practices while providing local jobs and clean energy transportation, a win-win for the state of Iowa."
DART will soon be the first transit agency in Iowa to deploy Proterra's zero-emission buses, bringing clean transportation to the greater Des Moines area.
"Investing in clean technology means creating jobs and bringing the next wave of innovation directly to communities across the U.S.," said Elizabeth Presutti, CEO of DART. "DART will be the first in Iowa to have Proterra electric buses, and it's a special opportunity to have the bus bodies made in our home state."
TPI opened its plant in Newton in 2008 to build wind turbine blades. Last year, TPI began building Proterra bus bodies at the factory to support the growing customer demand. TPI uses similar carbon fiber-reinforced composite material to build the Proterra bus bodies as it does for its wind blades.
"We are thrilled to have opened our second Newton plant to build composite bus bodies for Proterra. Proterra is providing U.S. transit authorities, such as DART, with 100 percent electric buses in a cost-effective manner," said Steve Lockard, president and CEO of TPI Composites. "This is what 100 percent clean transportation looks like – combining cost-effective wind energy, solar energy, battery storage, transmission and electric vehicles."
"The lightweight composite material we use to build our battery-electric buses removes 4,000 pounds of weight compared to a metal bus frame and chassis, which allows us to store more energy on board to increase the range of the bus and meet the daily route needs of transit agencies," added Proterra's CEO, Ryan Popple.