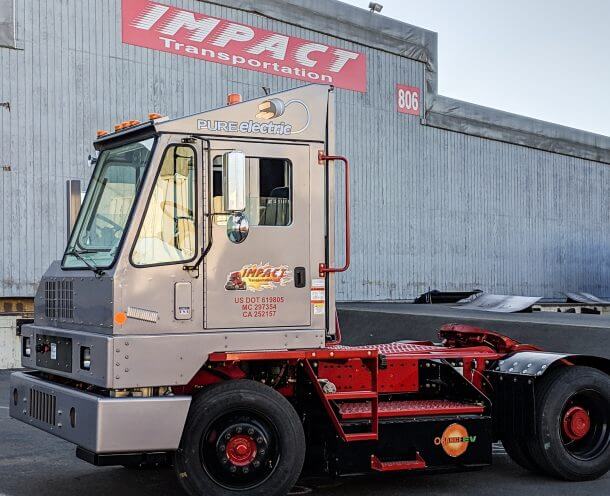 Orange EV and Impact Transportation have announced the deployment of an Orange EV T-Series electric terminal truck at Impact's 250,000-square-foot warehouse and special project site, supporting operations at the Port of Oakland in northern California.
The Orange EV truck, which is U.S. Department of Transportation compliant, is built with an 80 kWh battery pack and standard charging. The pure-electric yard truck is being used to pull containers, 53-foot vans, flatbeds, and heavy, out-of-gauge cargo.
"We've had no issues," notes Ron Cancilla, president of Impact Transportation. "The Orange EV electric is as strong as any of our diesel equipment and has surprising torque under any load – heavy or light."
According to onboard telematics data, Impact can operate its Orange EV truck for about 11 hours on a single charge if needed, although the site is routinely plugging in to charge during breaks, shift changes and other downtime.
Orange EV offers a range of equipment configurations to meet site-specific needs, including larger battery packs and fast-charging options. With a 160 kWh battery pack, Impact could operate for about 22 hours on a single charge.
"Impact Transportation is a dedicated champion of clean transportation. Their efforts and leadership are helping pave the way to zero emissions at the Port of Oakland," comments Mike Saxton, chief commercial officer of Orange EV.
"Our team members spend five to six days a week moving customer cargo through our facilities, so comfortable, dependable and environmentally friendly equipment is a must," adds Cancilla. "Over the last two years, we have replaced all of our cargo-handling equipment with the cleanest technology available. Deploying an Orange EV electric was just one more step in our efforts to provide our team with the best equipment out there."
Impact Transportation used funding from the Hybrid and Zero-Emission Truck and Bus Voucher Incentive Project (HVIP) to purchase the Orange EV truck. HVIP enables discounts of up to $165,000 per Orange EV terminal truck. Fleets using Orange EV trucks can now also monetize site-generated carbon credits worth thousands of dollars per truck annually, the partners note.