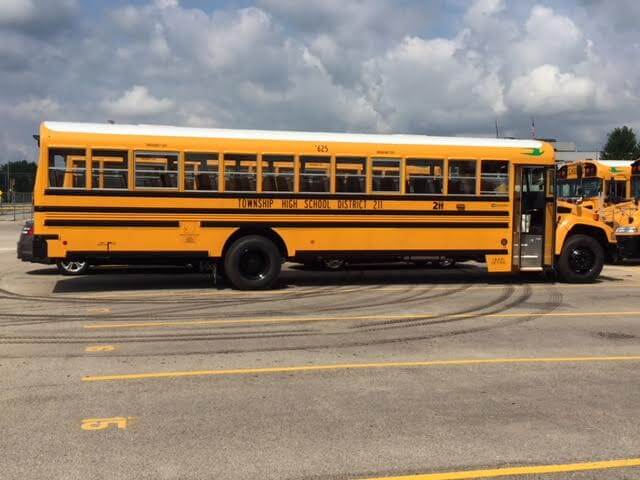 Township High School District 211 in Palatine, Ill., has added 15 propane autogas-fueled buses to its fleet for the 2018-19 school year.
Equipped with Ford's 6.8L V10 engine, the Blue Bird Vision Propane Type C buses are powered by ROUSH CleanTech's propane fuel systems. The buses, which run regular daily routes, are expected to reduce nitrogen oxide emissions by almost 14,000 pounds and particulate matter by about 475 pounds each year compared with the diesel buses they replaced, says ROUSH CleanTech.
"District 211 strives to be green in as many areas as we can. Our new propane-fueled buses are one major way we can improve the air quality around our schools," says Diana Mikelski, director of transportation for Township High School District 211.
In addition, Mikelski estimates that the new propane buses will collectively save approximately $15,000 per year in fuel costs alone.
"We are reducing our transportation costs with propane buses, and the savings will be reallocated to other transportation initiatives," she says. "Our taxpayers will be able to observe our goal to reduce pollution and operating costs, which saves dollars in the end."
"Township High School District 211 joins the growing number of school districts looking to
alternative fuels to lower total ownership costs," notes Ryan Zic, director of school bus sales for ROUSH CleanTech. "Along with financial savings, propane buses have the added benefit of cutting pollution, operating more quietly and running on a domestically produced fuel source."
Mikelski says the district plans to purchase more propane school buses once an annual replacement schedule has been determined.
She adds, "We chose propane buses because they give us the whole package – low maintenance and fuel costs, reliability in extreme temperatures, and quiet operation."