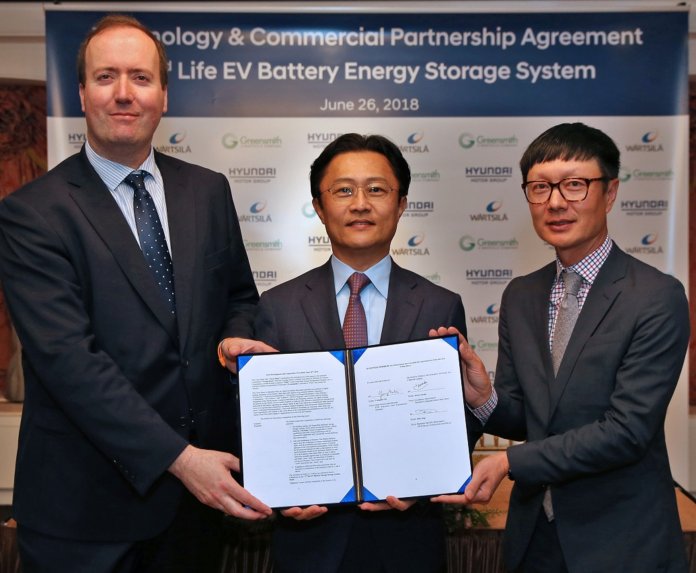 Hyundai Motor Group (HMG) has selected Wärtsilä for a partnership designed to use second-life electric vehicle (EV) batteries for the energy storage market.
The global partnership will combine HMG's expansion in EVs with Wärtsilä's growing energy business, which includes 67 GW of installed power plants and advanced energy storage technologies and software – created through its acquisition of Greensmith Energy.
The partnership will target advanced energy storage products and platforms that maximize HMG's second-life EV batteries to be commercialized in Wärtsilä's existing customer and channel networks across 177 countries. Wärtsilä sold close to 4 GW of power plants in 2017 in both developed and developing regions of the world.
"Energy storage is the logical next step in the after-market use of EV batteries," says Dr. Youngcho Chi, executive vice president of the strategy and technology division and chief innovation officer of HMG. "By repurposing resource-intensive products like EV batteries, we eliminate disposal costs and extend the value of the R&D investment that goes into manufacturing the technology. HMG is strengthening its leadership in clean technology and sustainability by participating in the new energy business."
"Wärtsilä, through the capabilities and integration experience of Greensmith Energy, will develop a cleaner and more powerful approach to second-life battery applications for Hyundai Motor Group," adds Javier Cavada, president of Wärtsilä energy solutions. "Our strategic partnership with Hyundai Motor Group represents the life-cycle vision Wärtsilä strives to deliver to our customers and partners around the world. Incorporating second-life EV batteries into our energy and integration business underscores our deep commitment to building sustainable societies with smart technologies."
HMG is developing a 1 MWh-level energy storage system that uses Hyundai IONIQ Electric's and Kia Soul EV's second-life batteries.