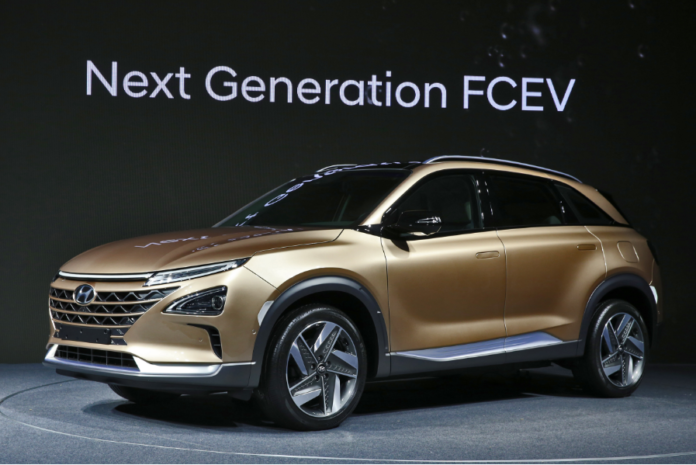 In its latest release, Hyundai Motor has offered an early glimpse of its next-generation fuel cell vehicle, well ahead of the hydrogen-powered SUV's official launch early next year.
According to the automaker, the near-production-ready, yet-to-be-named model was displayed at a special preview event held in Seoul, highlighting Hyundai Motor's commitment to a new era for advanced eco-friendly vehicle development.
The new SUV is Hyundai Motor's second commercially produced hydrogen model and uses the company's fourth generation of hydrogen fuel cell technology.
As reported, the new fuel cell model was developed on four key pillars that focus on fuel cell system efficiency, performance (maximum output), durability, and tank storage density.
By enhancing fuel cell performance, reducing hydrogen consumption and optimizing key components, the vehicle's efficiency is greatly improved compared with its predecessor, the ix35 Fuel Cell (Tucson Fuel Cell). The new SUV boasts an efficiency level of 60%, or a 9% increase from the ix35's 55.3%. With enhanced system efficiency, the new model targets a driving range of more than 580 km on a single charge.
In addition, the new model's maximum output is enhanced by 20% compared with its predecessor, boasting 163 PS of power. The fuel cell SUV also improves the car's cold-start capability, as the vehicle's architecture is optimized to allow it to be started at 22 degrees F. In addition to boosting the new car's capabilities, the enhanced components – such as membrane electrode assembly and bipolar plates – also helped to reduce production costs.
By employing highly durable catalyst technology, the new hydrogen-powered SUV ensures even greater longevity than its predecessor.
Further, the hydrogen vehicle makes significant improvements in tank storage density, with the tank package now featuring three equally sized tanks, as opposed to two different sizes.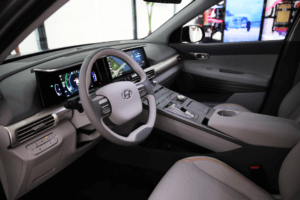 Calling it "the true epitome of an eco-friendly vehicle of the future," Lee Ki-sang, senior vice president of Hyundai Motor Group's Eco Technology Center, says that Hyundai Motor aims to "take lead in developing and producing green energy vehicles that would ultimately complement a near-zero-emission society."
According to Hyundai, this new model will spearhead the company's plans to accelerate development of low-emission vehicles – in line with Hyundai Motor Group's renewed goal of introducing 31 eco-friendly models to global markets by 2020.
Hyundai Motor says it plans to take a multi-pronged approach to its eco-vehicle program, committing to a future vehicle lineup comprising a variety of powertrain options – electric, hybrid and fuel cell – to suit customers' varied lifestyles.
While Hyundai Motor continues to develop its role in the electric vehicle (EV) market with its current IONIQ model, the company also aims to establish a lineup ranging from small EVs to large and luxurious Genesis-brand models.
Specifically, Hyundai Motor says that it will 1) launch an EV version of the Kona compact SUV with a range of 390 km in the first half of 2018; 2) launch a Genesis EV model in 2021; and 3) launch a long-range EV with a 500 km range after 2021.
Furthermore, Hyundai Motor will develop its first dedicated architecture for pure EVs, allowing the company to produce multiple models with longer driving ranges.
Hyundai Motor says it will also bolster its efforts in hydrogen fuel cell technology, enhancing research and development to boost fuel cell EV performance and durability, while also making the technology smaller and cheaper so that it can be applied to smaller sedans.
As part of these efforts, Hyundai Motor will unveil a new hydrogen-powered bus in the fourth quarter of this year.
The automaker will reveal the new hydrogen SUV early next year in Korea, followed by the North American and European markets. The company will also consider expanding availability of its new fuel cell model to markets with high growth potential for eco-friendly vehicles, such as China.