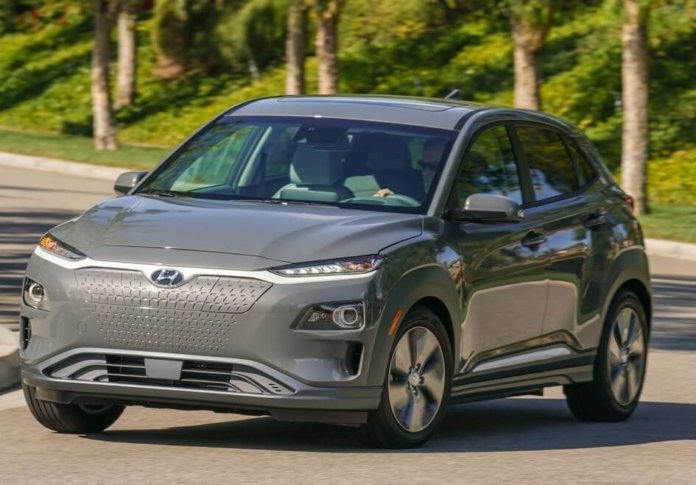 Hyundai has unveiled the U.S.-market version of its Kona Electric crossover, which has an estimated range of 250 miles.
Representing Hyundai's first compact electric crossover for the U.S. market, the 2019 Kona Electric will be produced in Ulsan, Korea, and will be available in the fourth quarter of this year. Initial availability will be in California and subsequently in zero-emissions vehicle (ZEV)-focused states in the western and northeastern regions of the U.S.
The Kona Electric powertrain employs a high-efficiency 150 kW (201 horsepower) permanent-magnet synchronous electric motor supplied by a high-voltage 64 kWh lithium-ion battery. The motor develops 291 lb.-ft. of torque distributed to the front wheels through a 7.981 axle ratio.
In addition, the powertrain inverter has a power density of 25.4 kVA per liter, and the battery system is liquid-cooled and operates at 356 volts. Battery pack energy density is 141.3 Wh/kg (greater than the Chevy Bolt, notes Hyundai), with a total battery system weight under 1,000 lbs. In addition, Kona Electric energy efficiency is internally estimated at 117 MPGe, which is superior to the Nissan Leaf (112 MPGe), Tesla Model S (104 MPGe) and Tesla Model X (93 MPGe), according to the automaker.
The Kona Electric uses a Level II on-board charging system capable of a 7.2 kW rate of charge. An 80% charge can be achieved in 54 minutes with a Level III quick charge, using the SAE-Combo charging port, while a 7.2 kW Level II charger takes 9 hours and 35 minutes. The 100 kW DC fast-charging capability is standard on the Kona Electric, notes Hyundai. For charging convenience, the charging port is located in the front grille area for head-in parking ease.
Available safety features on the vehicle include lane-keeping assist, blind-spot collision warning, rear cross-traffic collision-avoidance assist, parking distance warning and forward collision-avoidance assist with pedestrian detection.
"Our new Kona Electric crossover is a stylish and efficient compact CUV, tailored to the needs of customers who pursue eco-focused active lifestyles requiring generous range," states Mike O'Brien, vice president of product, corporate and digital planning for Hyundai Motor America. "We're confident it will set new standards for the electric-propelled compact CUV segment, with outstanding range flexibility, appealing design, cutting-edge connectivity and class-leading available safety features."