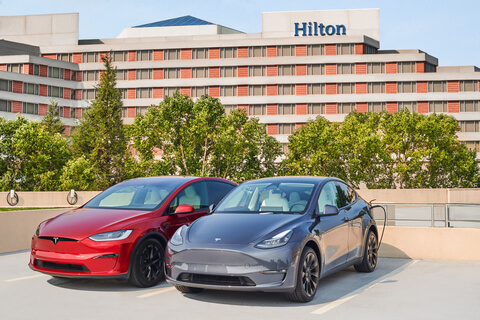 Beginning in early 2024, up to 20,000 Tesla Universal Wall Connectors are slated to be installed at 2,000 Hilton hotels in the U.S., Canada and Mexico, making Hilton's planned EV charging network the largest of any hospitality company.
There will be at least six chargers at each of the selected hotels.
"Through this expanded agreement with Tesla, we are significantly changing the landscape of universal EV chargers in North America in an incredibly short amount of time," says Matt Schuyler, chief brand officer, Hilton. "This network of EV chargers will offer our guests even more value with the convenience of much-needed overnight charging access in more locations."
"A key priority for Tesla Charging is installing low-cost, convenient AC charging anywhere electric vehicles are parked for more than an hour or two," adds Rebecca Tinucci, senior director of charging infrastructure, Tesla. "Installing infrastructure at popular destinations like Hilton hotels enables EV owners to charge where they park, meaning no unnecessary refueling stops along their journey."
Hilton says its vast geographic footprint of hotels alongside roadways and in key urban destinations across North America makes it uniquely suited to provide charging access at scale for travelers on long-haul trips.