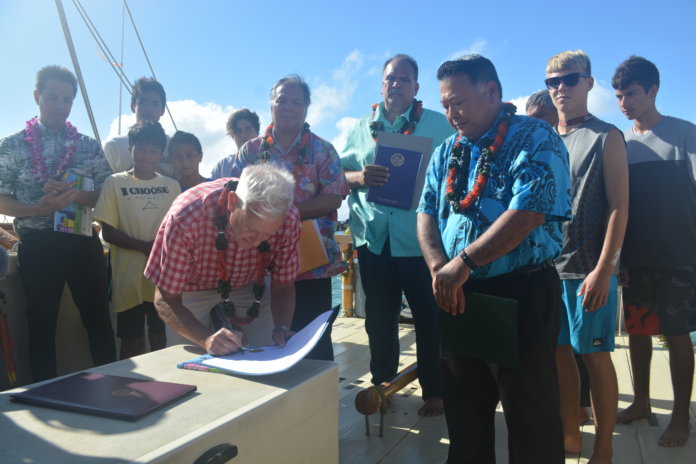 On Tuesday, leaders from the City and County of Honolulu, Maui County, Hawaii County and Kauai County came together on the Polynesian voyaging canoe Hōkūleʻa in committing to transform Hawaii's public and private ground transportation to 100% renewable fuel sources by 2045.
Honolulu Mayor Kirk Caldwell, Maui County Mayor Alan Arakawa, Kauai County Mayor Bernard P. Carvalho Jr., and Hawaii County Managing Director Wil Okabe, representing Mayor Harry Kim, set the new target by signing their respective proclamations.
"The stakes are too high for Oahu, as well as the rest of our state. We have to change our path," said Caldwell. "With this announcement, we want to send a message that we welcome the next phase of Hawaii's clean energy transformation, which will not only reduce our carbon dioxide emissions and fossil fuel imports, but will also ensure a more resilient future."
According to a joint press release, all four mayors recognize that this pledge is a critical next step to energy sustainability because ground transportation accounts for over one-quarter of Hawaii's imported fossil fuel consumption and greenhouse gas emissions. It also represents a significant financial gain for residents, as operating and maintaining an electric vehicle costs about one-third less than a comparable vehicle powered by fossil fuel, the release adds.
In their respective proclamations, the City and County of Honolulu, the County of Maui, and the County of Kauai pledged to lead the way by transitioning all of their fleet vehicles to 100% renewable power by 2035, and the County of Hawaii plans to establish a goal toward the same end. However, the press release did not offer specifics on how the counties plan to meet their targets.
"It is vitally important that we chart a new course that steers us away from fossil fuel use and carbon emissions in our ground transportation," said Arakawa. "The goals we are setting today are not only desirable, but attainable, and help send a message that Maui County and Hawaii are open for innovation to help ensure the greater health of our communities and the planet as a whole."
"Hawaii County is committed to the goals of this initiative, and we will do everything we can to see it fulfilled," said Kim.
The proclamations also continue Hawaii's progress in transitioning away from fossil fuels and builds off a 2015 state law that requires 100% of Hawaii's electricity to be generated by renewable sources by 2045.
According to the release, the four Hawaii mayors join leaders in France, Great Britain, India, China, Dublin, Madrid, Oslo, Milan, Paris, and Brussels, who have also committed to transition their transportation systems away from fossil fuels.
"It is our shared kuleana to reduce our emissions, no matter how big or small our communities may be," stated Carvalho. "It is an ambitious goal, but by bringing everyone to the table to work together, we can achieve 100 percent affordable, safe, renewable transportation by 2045."
Photo courtesy of the City and County of Honolulu