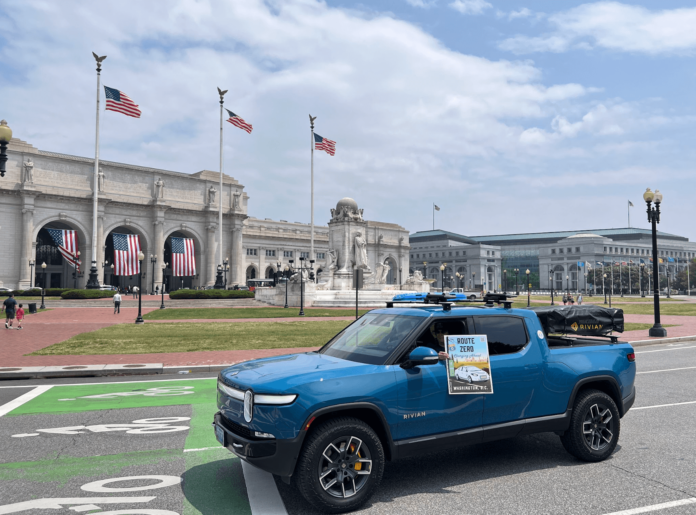 The comment periods for the proposed federal clean car rules have ended, marking new milestones and prompting action from environmental groups.
The Sierra Club says more than 50 officials recently signed a letter delivered to the U.S. Environmental Protection Agency (EPA) to urge the agency to "protect the health of their residents and fight climate change" by finalizing "the strongest clean car and truck vehicle emission standards" before the year is over.
Amplifying the significance of both rules to communities across the nation, the Sierra Club and partners participated in a cross-country electric vehicle relay, named the Route Zero Relay, that finished in D.C. with the delivery of over 130,000 public comments to the EPA for its clean cars rule. (More photos from the June 28 event can be found here.)
"Our communities are suffering from poor air quality and worsening climate impacts – pollution from our cars and trucks is a major contributor to both," notes Katherine Garcia, director of the Sierra Club's "Clean Transportation for All" initiative. "Together, these two major EPA rules can deliver massive benefits to local communities. Local leaders are prioritizing the well-being of their residents by urging the EPA to get the job done and address our enormous transportation pollution problem with strong action."
The United Auto Workers (UAW), meanwhile, is reportedly calling on the federal agency to ease up on the rules, which would call for more than two-thirds of new vehicles to be electric by 2032, Reuters reports. The UAW, which represents workers from General Motors, Ford Motor, and Stellantis (Chrysler parent company), has concerns that the rulemaking would "disproportionately impact domestic union auto production."
The comment period for the light-duty clean cars rule ended on July 5, while the comment period for the heavy-duty clean cars rule ended on June 16.