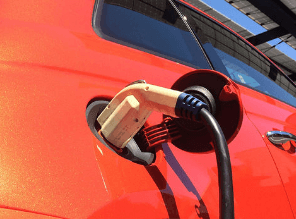 Today, New York Gov. Andrew M. Cuomo launched a $70 million electric car rebate and outreach initiative to encourage the growth of clean and non-polluting electric car use in New York and promote the reduction of carbon emissions in the transportation sector.
The Drive Clean rebates are now available to all New York residents who buy eligible cars through participating new car dealers.
"Reducing vehicle emissions is a critical part of this administration's efforts to fight climate change and reduce New York's carbon footprint," says Cuomo. "These highly anticipated rebates will make electric vehicles more affordable and accessible and support this state's nation-leading efforts to build a cleaner, greener New York for generations to come."
As reported, $55 million of the Drive Clean Initiative is dedicated to rebates of up to $2,000 for purchase of a new plug-in hybrid electric car, all-electric car or hydrogen fuel cell car. In addition to the $55 million in rebates, $15 million will support improving consumer awareness of electric cars and their many benefits, installing more charging stations across the state, developing and demonstrating new electric car-enabling technologies, and other efforts to put more electric cars on New York's roadways.
The initiative will be managed by the New York State Energy Research and Development Authority (NYSERDA) and will help the state achieve its goal to reduce greenhouse-gas emissions 40% by 2030.
More than 30 different types of electric cars are available under the Drive Clean Rebate initiative.
"Along with a cleaner, modernized electric grid, we cannot achieve our climate change goals without also supporting new and cleaner technologies in the transportation sector," says Chairman of Energy and Finance for New York Richard Kauffman. "This new electric vehicle rebate is the latest step under Governor Cuomo's leadership enabling New Yorkers to take an active role in the fight to clean our air, and the state's unprecedented commitment to clean transportation will animate the electric car market in New York state, allowing more people to buy cleaner cars and help reach the governor's ambitious greenhouse-gas reduction goal."
John B. Rhodes, president and CEO of NYSERDA, says, "This is an exciting initiative that will make it easier for consumers to choose clean transportation. Electric cars are critical to our clean energy future, and New York state is committed to accelerating the growth of these environmentally friendly vehicles as we build a clean, resilient and affordable energy system under the governor's Reforming the Energy Vision strategy."
Compared with gasoline-powered cars, electric cars are more energy-efficient and cost about 50% to 70% less to operate per mile. Carbon emission savings from cars receiving rebates under this initiative are expected to be 115,000 metric tons per year – the equivalent of taking 24,000 cars off the road.
The Drive Clean Rebate initiative is the latest action by Cuomo to increase the number of electric cars in New York state. Earlier this month, the governor announced a new electric vehicle campaign that includes the installation of charging stations and incentives for employers to encourage employees to drive electric vehicles. Last fall, he announced $3 million for rebates through the Environmental Protection Fund for municipalities to purchase or lease zero-emission vehicles, such as battery-electric and hydrogen vehicles, for their fleets.
As reported, the state has also revised regulations to clarify charging station ownership rules and supported research and demonstration projects on new plug-in electric car technologies and policies.
In addition, the New York Power Authority has invited municipalities to tap into a master contract that offers better pricing for the supply, installation and maintenance of charging stations. The governor also announced previously the availability of another $3 million to help eligible municipalities and rural electricity cooperatives purchase electric vehicles for use in their municipal use fleets.
Sen. Joseph Griffo, chairman of the Senate Energy and Telecommunications Committee, comments, "A consumer rebate for the purchase of electric vehicles – including plug-in hybrid electric vehicles, battery-electric vehicles and fuel cell electric vehicles – provides a greater opportunity for choice to consumers who want to drive low-emission vehicles. The program will also help reduce emissions in the transportation sector over time while further promoting economic opportunity by keeping dollars for domestic electricity and sales of EV cars right here in New York."
Kathleen Fisher, the Sierra Club's New York electric vehicles initiative organizer, adds, "A consumer rebate for the lease or sale of an electric vehicle will be one of the best ways to help New Yorkers drive away climate pollution. With this rebate, Governor Cuomo, NYSERDA and legislative leaders are ramping up convenient and affordable transportation options, creating New York jobs and protecting our climate."