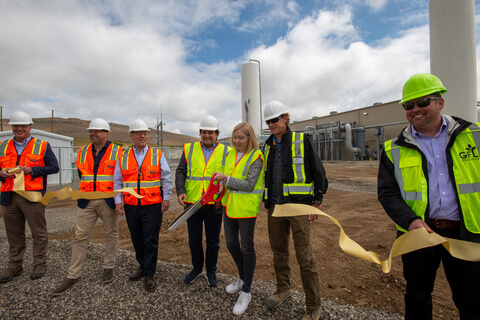 GFL Environmental Inc. and OPAL Fuels Inc. have completed construction of their new renewable natural gas (RNG) production facility, Emerald RNG, at GFL's Arbor Hills landfill in Michigan.
The Emerald RNG facility will capture naturally occurring biogas from the decomposition of organic material at the landfill and refine it into RNG. The facility has a nameplate capacity of 10,000 SCFM of landfill gas and is expected to produce more than 2,500,000 MMBtu or almost 20 million gasoline gallon equivalent of RNG annually.
The RNG produced by the plant will be used, in part, to power a portion of GFL's U.S. CNG fleet.
"This RNG project advances our own sustainability goals by reducing GHG emissions from both our landfills and our fleet, as well as the goals of our customers, by avoiding emissions through the beneficial reuse of RNG to displace virgin fuel applications," says Patrick Dovigi, GFL's founder and CEO.
This is the first of two previously announced RNG projects to be developed via a joint venture between the companies at landfills owned by affiliates of GFL. The second project, located in North Carolina, is expected to commence commercial operations next year. GFL and OPAL Fuels are also pursuing renewable energy projects at seven other landfill sites that are in various stages of development.