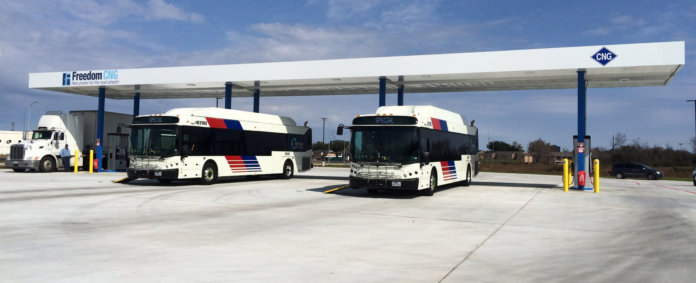 Since 2016, the Metropolitan Transit Authority of Harris County (METRO) Houston has traveled 8.2 million miles with its fleet of 50 compressed natural gas (CNG) buses. With 20 more CNG buses on order from New Flyer Industries, METRO aims to improve its environmental footprint in the Space City.
In 2015, METRO entered into a fuel supply agreement with Freedom CNG. The transit authority also uses Freedom's north Houston refueling facility, located in the Pinto Business Park near I-45 and Beltway 8.
According to Freedom CNG, the Houston-Woodlands Area has poor air quality, with 67% of Houston's ozone production coming from mobile emissions. The American Lung Association ranks Houston 11th on the list of most-polluted cities in the U.S. In turn, METRO has implemented changes to combat the ever-growing ozone issue. Citing the U.S. Environmental Protection Agency (EPA), Freedom says CNG buses produce 20% less carbon dioxide and 70% less carbon monoxide compared to their diesel fuel counterparts.
"METRO, as one of the largest diesel buyers in the area, has a unique opportunity to significantly improve air quality locally by expanding the use of CNG for a large percentage of the 1,200 transit buses in Houston," says Freedom's co-manager, Bill Winters. "METRO can be a catalyst for change in Houston by encouraging other local governmental entities to use CNG, which is a proven, clean, cheap, stable, locally produced and reliable transportation fuel."
Together, METRO and Freedom CNG are fueling local partnerships while striving to reduce ozone-producing NOx emissions in the Houston-Woodlands area.