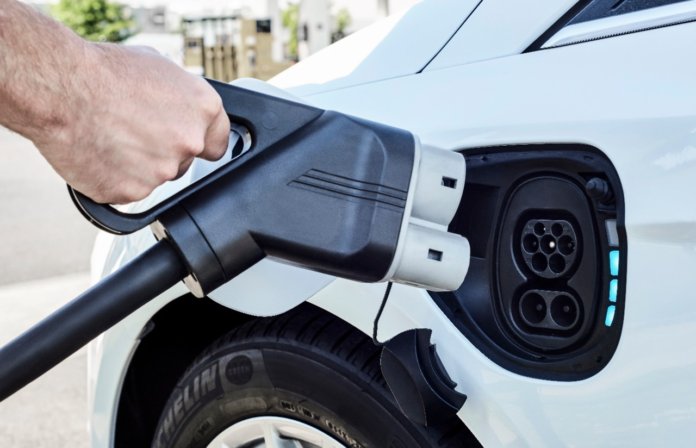 When it comes to workplace electric vehicle (EV) charging, Michigan-based Ford says the large automaker has found that if you build it, they will come, and they will charge.
In this case, "they" are U.S. and Canadian Ford employees, who say the company's 200 current charging stations at 50 facilities have given them the confidence to buy or lease an EV without worrying where they can charge away from home. In fact, according to the company, more than six in 10 employees who drive EVs say Ford's workplace charging network influenced their purchase or lease decision.
As a result, Ford has announced it is tripling the number of North American workplace charging stations to 600 in the next two years. Within a year, the network will double.
"Work is the second most likely place people charge their electric vehicles," says Steve Henderson, Ford sustainability and vehicle environmental matters manager, in a press release. "If we give people the ability to charge when they're at work, we can significantly up the potential for mass market adoption of electrified vehicle technology."
Henderson and his team conducted a study on employee charging and driving behaviors from January 2014 to September 2017, initially collecting data using the MyFord Mobile smartphone app, Ford's charging network and employee surveys.
Ford says an important finding suggests that for some employees – particularly those stationed at one facility for an entire day – having to move their vehicles once they are fully charged constitutes a serious downside to driving electric. So, Ford is expanding its network to accommodate existing demand and anticipated greater adoption of electrified vehicles.
New employee charging stations will also aid an ongoing effort to understand where and when people charge their EVs whether at work, home or while running errands.
Among other findings, the Ford study revealed the following:
The most popular times to charge EV batteries are from 8 a.m. to 11 a.m. and from noon to 3 p.m.;
Since September 2014, Ford employees have charged their vehicles at work more than 165,000 times (~$59,000 at 0.078 cents per kilowatt-hour), resulting in a reduction in carbon emissions produced by approximately 600,000 pounds;
Through early August of this year, Ford's charging station network has provided approximately 2 million miles of pure electric driving for its employees; and
Detroit-based utility DTE Energy's solar array at Ford World Headquarters currently produces far more electricity than is consumed by the charging stations.