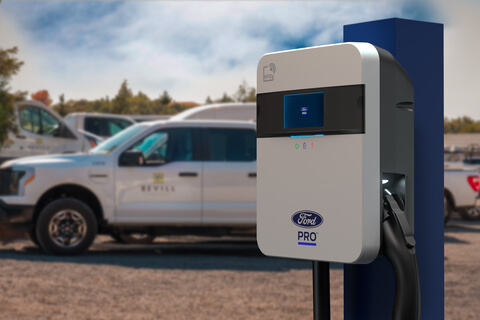 Ford Pro, the commercial division within Ford Motor Company, has debuted new charging hardware in its suite of EV solutions, including the Series 2 AC Charging Station 80 A and expanded DC fast charger options.
Coupled with Ford Pro's charging management software, the company provides a fully integrated solution that simplifies EV charging for both Ford and non-Ford electric vehicles.
"We're committed to helping businesses make the transition to electric easy with a single-minded focus on curated commercial charging solutions," says Ted Cannis, Ford Pro CEO. "With our tailored EV consulting and portfolio of charging hardware and software solutions, we can design, implement and operate solutions for Ford and other brands that will last for many years to come. And we are not afraid to tell customers when electrification is not yet a good fit and support them with other solutions."
Now available for pre-order, the Series 2 AC Charging Station 80 A comes with features that simplify and help improve the charging experience at the workplace for fleet operators and their drivers, including improved detachable cables and connectors; a wide range of connectivity options; a new LCD screen; temperature sensors and more.
Ford Pro is also revealing extended DC fast charger options in 180 kW and 240 kW configurations, giving fleet operators and their drivers more versatility at their workplace with more power and shortened charge times.