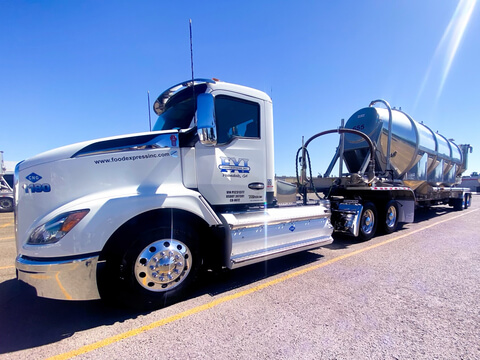 Food Express Inc. has begun operating a Kenworth Class 8 tractor fitted with a Cummins X15N natural gas engine and fueled with renewable natural gas (RNG) from Clean Energy Fuels Corp.'s Fontana, Calif., station.
The Cummins X15N engine is designed to reduce carbon dioxide and nitrogen oxides emissions by 90% below current EPA standards. By operating with RNG, the Food Express truck will have a net carbon-negative rating. The engine also demonstrates up to a 10% fuel economy improvement compared to the Cummins ISX12N engine but provides a power rating of up to 500 hp and torque up to 1850 lb-ft.
Food Express has a longstanding commitment of operating sustainably. It currently runs a fleet of 88 heavy-duty trucks that operate on RNG while transporting bulk food commodities throughout California and the Pacific Northwest.
"The addition of the new truck with Cummins' latest clean technology into our fleet falls nicely into our decarbonization plans," says Kevin Keeney, president of Food Express. "Having the power and torque of a larger engine is ideal for many of our routes, and it is an added benefit for it to operate with an ultra-low carbon fuel like RNG."
"The relationship between Food Express and Clean Energy has been strong since 2015 when they began including natural gas-powered tractors into their fleet," says Chad Lindholm, Clean Energy's senior vice president. "Food Express quickly transitioned to RNG as it became available and continues to demonstrate their leadership in the transportation sector by being one of a handful of fleets that are part of the early testing of Cummins latest technology and their new larger engine."
The Cummins X15N will be commercially available next year.