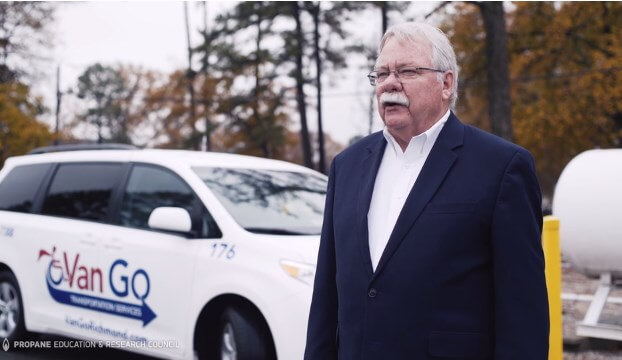 The Propane Education & Research Council (PERC) has added to its Straight Talk video series, an online collection of videos that let viewers hear directly from the fleet owners and managers who use propane autogas vehicles.
Available for free on PERC's website, the six new videos include testimonials from municipalities saving money for taxpayers, a transportation company reducing fuel costs, and school districts solving the frustrations that come with operating older diesel buses in cold weather.
"Propane autogas is incredibly versatile as a fuel for any size or type of fleet, with both OEM and after-market certified fuel systems that can accommodate many of a fleet's existing or new vehicles, from sedans, light-duty vans and pickups, to medium-duty work trucks and school buses," says Michael Taylor, PERC director of autogas business development. "We want these videos to allow fleet owners and managers to visualize the experiences they could have by using clean, cost-effective propane autogas."
New fleets included in the video series include the following:
San Diego Metropolitan Transit System in San Diego, Calif.
San Diego MTS transitioned 36% of the fleet's minibuses and paratransit buses to new propane autogas vehicles in fall 2016. The fleet found that transitioning to the fuel was nearly seamless and allows MTS to make both a positive impact on the environment and save money.
City of Kingsport in Kingsport, Tenn.
Since 2011, the City of Kingsport has steadily added 90 propane autogas vehicles to nearly a dozen departments, including parks and recreation, and police. The midsize city has seen benefits including reduced costs, high performance, and reduced emissions.
Metropolitan School District of Warren Township in Indianapolis, Ind.
About 85% of Warren Township's students ride a school bus daily, but increasingly cold winters put pressure on the district's fleet of diesel buses. Drivers now have a waiting list to switch over to driving the district's propane autogas buses, which start with no issue in the cold, warm up quickly, and run quietly.
Indianapolis Public Schools in Indianapolis, Ind.
Indianapolis Public Schools began replacing its fleet with propane autogas buses in 2016 to cut back on repair costs on its 12- to 13-year-old diesel buses. Along with providing students a quieter, more comfortable ride, the district can report both emissions and cost reductions to school boards and taxpayers.
Van Go Transportation Service in Richmond, Va.
By using bi-fuel systems that use propane autogas and gasoline, drivers for Van Go can transport clients further distances before having to worry about refueling. The company has also saved tens of thousands of dollars from reduced fuel and maintenance costs.
Cook-Illinois Corp. in Chicago, Ill.
Cook-Illinois Corp. first purchased propane autogas school buses in 2014 and hasn't looked back. The company services districts around the Chicago are, and observes less downtime with its propane autogas buses than its diesel buses. Cook-Illinois intends to switch at least 50% of its fleet to propane autogas.
View the new Straight Talk videos here.
Photo is a screenshot of Van Go's testimonial video.