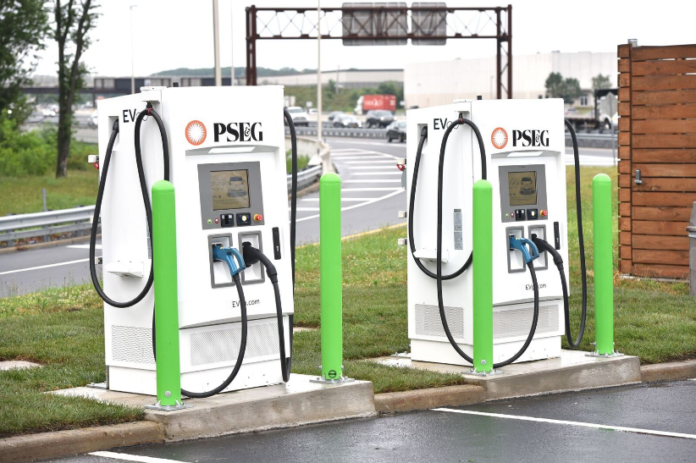 EVgo and New Jersey's Public Service Electric and Gas Co. (PSE&G) have officially opened EVgo's 950th fast charger in the U.S., at Molly Pitcher Service Area in Cranbury, N.J., centrally located on the New Jersey Turnpike.
According to EVgo, the completed station includes two 480 V fast chargers – each of which can deliver a 50 kW charge, providing 80% state of charge in 30 minutes, or about 150 miles of range per hour.
"We're thrilled to announce our 950th fast charging station at Molly Pitcher Service Area," says Terry O'Day, vice president of product strategy and market development at EVgo.
"Conveniently located along the New Jersey Turnpike, the station allows drivers to easily stop and re-charge," O-Day says. "As EVgo continues to expand its network of fast charging stations, we remain dedicated to providing only the best service and charging speeds. With the opening of our 950th charger, we look forward to reducing range anxiety with EV drivers and enabling them to travel even greater distances."
"The lack of convenient, accessible charging stations in New Jersey is clearly an impediment to EVs continued growth in the state," says Courtney McCormick, vice president – renewables and energy solution for PSE&G. "By partnering with organizations like EVgo to offer chargers on the Turnpike, PSE&G is doing its part to help current EV owners and show potential owners that EVs are a viable option in New Jersey."
EVgo utilizes a variety of flexible charging solutions, including pay-as-you-go, low-cost membership charging plans and unlimited charging plans for customers of partner OEMs, including BMW, Nissan and Ford.
EVgo offers dual chargers that cover all EVs, utilizing both CHAdeMO and CCS standards. EVgo's DC fast chargers provide approximately 150 miles of range per hour at a charging rate of 50 kW.
EVgo now operates 950 fast chargers in over 600 locations nationwide, covering the metropolitan areas where 90% of new electric cars are sold.
In addition to the EVgo partnership, PSE&G also offers an EV Charging Program designed to help spur the continued adoption of EVs in New Jersey by providing convenient charging options and gather data on real-world use. As reported, the program currently has charging stations with a total of 90 plugs installed at 12 customer sites. PSE&G also offers an Employee EV Charging Program with 45 plugs available at various company locations.