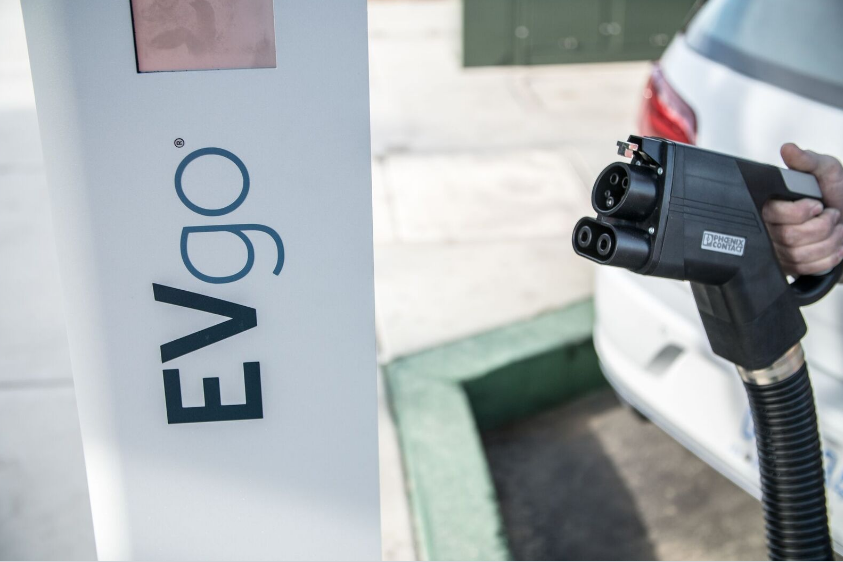 EVgo, a network of public electric vehicle (EV) fast charging stations, has revealed the top 10 cities with the highest usage of DC Fast Chargers in the U.S.
According to EVgo, the city with the most DC Fast Charging sessions was San Diego, with more than 6,000 sessions on an average month, followed by Fremont, Calif., with close to 4,000 sessions and then San Francisco with almost 3,000.
According to EVgo, its DC Fast chargers provide approximately 150 miles of range per hour at a charging rate of 50 kW. In comparison to other EV charging options, such as wall outlets (six miles of range per hour) and Level 2 (12-24 miles of range per hour), DC Fast is one of the fastest charging methods available today. As reported, this charging rate enables a single site to serves dozens of users per day.
When all of the top cities are combined, EVgo powers close to 25,000 charge sessions per month, which equates to 12,052 hours or 502 days. The Bay Area alone contributes 14,000 sessions, or 7,066 hours. In an average week, EVgo charges up to 711,000 miles and saves 29,000 gallons of gasoline. Just one 30-minute charging session at an EVgo DC Fast Charge station saves 24.5 gallons of gas. In turn, EVgo charges an average of 3,084,708 miles nationwide each month, which is almost seven trips to the moon.
When it comes to charge sessions per capita, Cupertino, Berkley and Fremont lead the charge in that respective order. Cupertino has 35 sessions per 1,000 residents utilizing EVgo DC Fast chargers, compared to the average charge sessions per 1,000 residents of the overall top cities, which is slightly over 10.
"Utilization of EVgo's chargers is growing everywhere across the nation," says Terry O'Day, vice president of product strategy and market development at EVgo. "As a single city, San Diego really stands out. Per capita, the residents of Fremont are really charging. EVgo has the most chargers in the Bay Area, and with six cities in the top 10 utilization rankings, it is contributing greatly to the number of sessions per month. We're currently seeing the number of charge sessions rise every month and look forward to the continued growth of the EV market."
EVgo now operates 950 fast chargers in over 600 locations nationwide, covering the metropolitan areas where 90% of new electric cars are sold. It utilizes a variety of charging solutions, including pay-as-you-go, low-cost membership charging plans and unlimited charging plans for customers of partner OEMs, including BMW, Nissan and Ford.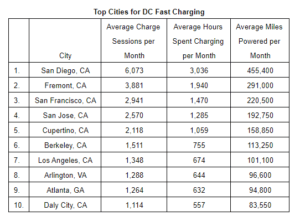 Chart courtesy of EVgo.