During the second quarter, 36 states and the District of Columbia took actions related to electric vehicles (EVs) and charging infrastructure, according to the N.C. Clean Energy Technology Center (NCCETC), part of the College of Engineering at North Carolina State University.
NCCETC has released its Q2 2018 edition of The 50 States of Electric Vehicles, which provides insights on state regulatory and legislative discussions and actions on EVs and charging infrastructure.
According to the report, the greatest number of actions were related to EV rebate programs, followed by DC fast charging and Level 2 charging station deployment.
The report notes three trends in EV activity apparent or emerging in Q2 2018:
(1) States diverging on the issue of regulatory oversight of EV charging stations;
(2) States and utilities working to expand EV access to low-income and disadvantaged communities; and
(3) EV activity concentrating in particular states and regions.
A total of 274 electric vehicle actions were taken during Q2 2018. Seven states – New York, New Jersey, California, Hawaii, Massachusetts, Vermont and Minnesota – accounted for over half of these actions, the report says.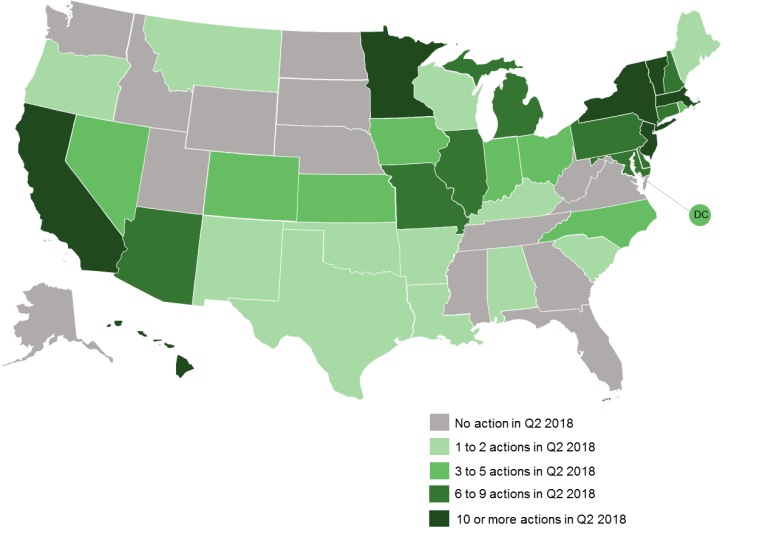 "Although the majority of electric vehicle policy activity is occurring in particular states and regions, many states throughout the country are beginning to study questions related to electric vehicles and address initial regulatory issues surrounding vehicle charging infrastructure," says David Sarkisian, senior policy analyst at NCCETC.
The report notes the top EV actions taken during the quarter:
California regulators approving $738 million for EV infrastructure investments;
Gov. Andrew M. Cuomo announcing up to $250 million for EV expansion in New York;
Utility regulators in Alabama and New Orleans addressing oversight of EV charging stations;
The Public Utilities Commission of Nevada permitting NV Energy to own, operate and rate base EV charging infrastructure; and
The Vermont state legislature initiating an investigation into EVs and charging.
"While we continue to see legislative actions on electric vehicles most concentrated in the states that are part of the Multi-State Zero-Emission Vehicle Task Force, action pertaining to electric vehicles is occurring across the country," notes Heather Brutz, clean transportation manager at NCCETC. "This activity ranges from efforts to remove regulatory barriers to the creation of new incentive programs to directly promote vehicle and charging infrastructure deployment."
More on the report can be found here.