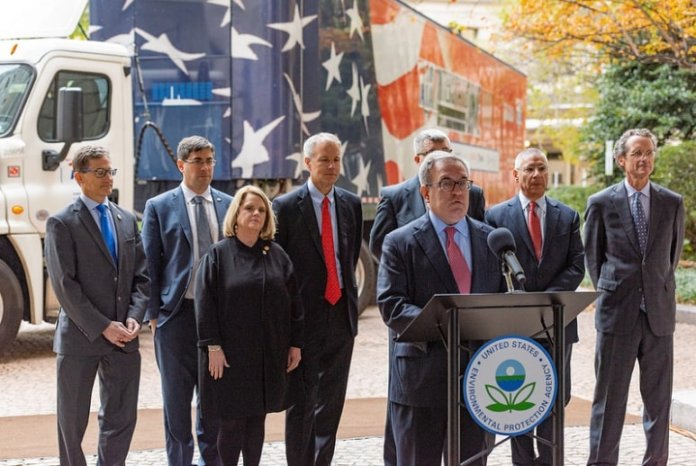 The U.S. Environmental Protection Agency (EPA) has launched the Cleaner Trucks Initiative (CTI), an effort designed to decrease nitrogen oxide (NOx) emissions from heavy-duty trucks.
From 2007 to 2017, U.S. NOx emissions dropped by more than 40%, but there is more work to be done, says the EPA, which estimates that heavy-duty trucks will be responsible for one-third of NOx emissions from the transportation sector in 2025.
In turn, the CTI will include a future rulemaking that will update the existing NOx standard – which was last set in January 2001 – while also streamlining compliance and certification requirements, says the agency.
Andrew Wheeler, acting administrator of the EPA, announced the initiative on Tuesday alongside Bill Wehrum, assistant administrator of the EPA's Office of Air and Radiation, as well as White House officials, state partners, labor representatives, and stakeholders from the trucking and engine manufacturing industries.
"The Cleaner Trucks Initiative will help modernize heavy-duty truck engines, improving their efficiency and providing cleaner air for all Americans," said Wheeler. "The U.S. has made major reductions in NOx emissions, but it's been nearly 20 years since EPA updated these standards. Through rulemaking and a comprehensive review of existing requirements, we will capitalize on these gains and incentivize new technologies to ensure our heavy-duty trucks are clean and remain a competitive method of transportation."
Wehrum added, "EPA's Cleaner Trucks Initiative is an important signal to all interested stakeholders that we will work hard on reducing emissions while producing a more effective and efficient program."
The EPA notes it is not required by statue to update the standard. The agency intends to publish a proposed rule in early 2020.
According to the EPA, the CTI is also designed to cut "unnecessary red tape" and simplify certification of compliance requirements for heavy-duty trucks and engines. Areas of deregulatory focus will include onboard diagnostic requirements, cost-effective means of reassuring real-world compliance by using modern and advanced technologies, the deterioration factor testing process, and concerns regarding annual re-certification of engine families, the agency says.
In a statement, the nonprofit Diesel Technology Forum says the new initiative "sets the vision for the heavy-duty diesel engines of the future as high-value assets which help achieve our nation's future energy and clean air goals while also expanding economic growth."
"Even as manufacturers explore other fuels and technology options, continued investments in diesel are strong indicators about the future for advanced diesel engines," the group adds.
Cummins Inc. has also announced its support of the EPA's new initiative:
"Cummins has a long history of working with regulators to help develop tough, clear and enforceable standards that lead to a cleaner, healthier and safer environment," says Jennifer Rumsey, the company's vice president and chief technical officer. "We can and should do more to reduce NOx. This is an important step forward because a streamlined, national regulatory program brings consistency across the country, allowing manufacturers to develop cleaner, more cost-effective solutions for our customers."
The EPA's launch of the program can be watched below: