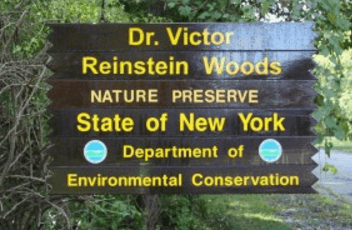 Envision Solar International Inc. says it has deployed another one of its EV ARC solar electric vehicle (EV) charging stations – this time, at the New York State Department of Environmental Conservation's Reinstein Woods Nature Preserve in the greater Buffalo Area.
"Together with our partners, we're making it easier for drivers in western New York to use sunshine for fuel with the installation of a new solar carport," says DEC Regional Director Abby Snyder. "The station provides us with a way to use the sun to fuel an electric vehicle without connecting to the energy grid, helping us lead by example and engaging our visitors to explore how our transportation needs can be met with clean energy."
According to Envision, the EV ARC will serve multiple purposes for both employees and visitors of the Reinstein Woods Nature Preserve. In addition to providing solar-powered charging for EVs, it also sports a digital video screen that will provide information on the station's performance and highlight upcoming events.
Further, the station is also being utilized to charge Reinstein Woods' neighborhood electric vehicles (NEVs), an electric scooter, and comes equipped with USB and AC outlets for visitors to charge other electronic devices.
"We are delighted to see New York state get so much value from the EV ARC by charging NEVs and EVs from nothing but sunshine and providing USB and 120 V outlets for other charging and emergency power needs," says Envision Solar CEO Desmond Wheatley. "The digital information screen rounds out a fantastic value proposition and ensures that visitors and staff in the park get the most robust solution the industry has to offer."
"We want to help people realize that electric cars are the future, but that doesn't mean that travel has to be limited," says Reinstein Woods Center Director Meaghan Boice-Green.
Invented and manufactured in California, the EV ARC fits inside a parking space, does not reduce available parking in any way, and generates and stores enough clean electricity to charge up to 225 miles of EV driving in a day.
The energy is stored in the EV ARC product's energy storage for charging day or night or for use by first responders or others during grid outages. Because the EV ARC product requires no trenching, foundations or installation work of any kind, it is deployed in minutes and can be moved to a new location with ease.
Envision says its product will be on display at New York City's 29th Annual Fleet Show in Flushing Meadows.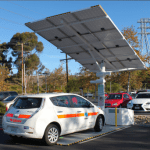 As reported, the EV ARC units will be charging New York's fleet EVs and supplying the event's power needs. They will also demonstrate Envision's new emergency power panel (E-Power) and the stowing capability that allows EV ARC products to continue to produce, store and deliver vital power even during hurricanes or other grid outages.
"We are delighted that New York City has elected to showcase our products," says Wheatley. "This is a great opportunity for us to demonstrate, once again, the dynamic nature of our transportable solution. What other EV charger could be installed in a few minutes for this show before later being moved to a permanent location?"