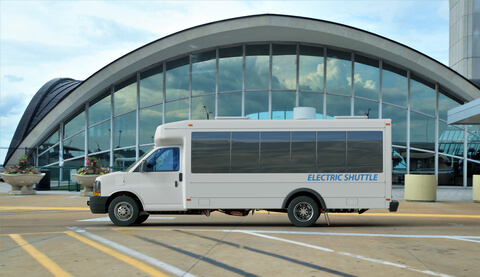 Lightning eMotors, a provider of zero-emission medium-duty commercial vehicles and EV technology for fleets, has sold five Lightning ZEV4 shuttle buses to St. Louis Lambert International Airport (STL).
STL partner SP Plus Parking will operate the vehicles, transporting passengers between the airport's two terminals. The deal also includes five Level 2 chargers and one Level 3 DC fast charger, currently set for delivery later this year.
STL received a Federal Aviation Administration (FAA) 2023 Voluntary Airport Low Emissions Program (VALE) grant to help fund the purchase of the vehicles and chargers. These grants are only available for the purchase of FAA Buy American compliant vehicles. To ensure its customers could access some of the more than $5 billion in available FTA/FAA funding, Lightning has certified the ZEV4 product line to be both FAA Buy American and FTA Buy America compliant.
"The Lightning ZEV4 will allow us to deliver EV shuttles to those that use St. Louis Lambert International Airport sooner," says Rhonda Hamm-Niebruegge, STL's airport director and CEO. "St. Louis Lambert International is committed to sustainable, clean energy practices and we're excited for passengers to begin experiencing that firsthand with our new shuttles."
The five Lightning ZEV4 cutaway vehicles are built on Lightning's second generation, GM 4500-based platform and will be fitted with shuttle bodies. They are expected to travel 100 miles per shift, with at least one operating around the clock using the Lightning-supplied DC fast charger during charging breaks, while the others will be used daily and charged overnight on Level 2 chargers. Lightning will also train local service providers to maintain the airport's first EVs.
ACE Parking operates a fleet of 24 Lightning shuttle buses at San Diego International Airport, and Lightning also recently completed a test of its Lightning Mobile charger at Dallas-Fort Worth International Airport.